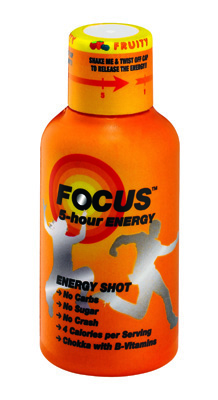 As I have problems sleeping and therefore start my working day very early, I often experience an energy slump after lunch. So I was looking forward to trying out Focus and its promise of a five-hour boost!

The first time I had been working for a few hours but was also hoping to get some painting done in the dining-room. By 11ish I really wasn't in the mood and didn't feel I had the energy to wield the paintbrush so I drank one of the Focus shots I had been sent. Amazingly, I did the painting – missing lunch out altogether – and carried on until about 5.30pm. I was impressed.

I saved the second little miracle bottle for when I was going out to a party one evening and really felt too tired… Not much of a reaction but that was probably due to the champagne consumed. The PR who now uses them regularly said they work best when you drink lots of water!

So I tried again and although I never had the same amazing effects as the first time, Focus did give me the energy boost I needed after lunch.

So what does Focus contain? Unsurprisingly, caffeine - plus lots of vitamins and animo acids. My one gripe is that they also contain a sweetener that I thought was unnecessary but then I don't like sweet things.
So yes, Focus is worth trying if your battery is running low. Though it should never be substituted for a healthy, varied diet and you should not take Focus if you are pregnant or a nursing mother.

Focus £1.79/60ml - drink half for a moderate energy boost or the whole one for maximum effect.
Available from www.focus5hourenergy.com, online through Nutricentre, and from Tree of Life stores .

In July it will be available from Londis, Budgens and Holland & Barratt,
plus it will be trialling at Waitrose Canary Wharf.