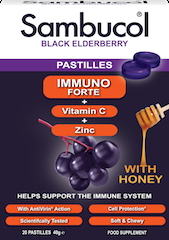 Trying to make sure children eat a balanced healthy diet and ensuing they have the correct amount of vitamins and minerals can be a challenge. This is especially so when children have school lunches and their meals are not monitored (and sometimes not healthy – pizza with chips is not unheard of!).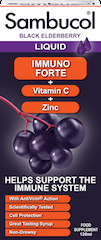 So one way to improve your child's health – and yours – is to top up with a supplement. We've tried lots of varieties on Harriet and other team members' children with little success. As you can imagine we didn't hold out much hope from the latest offerings from Sambucol® but were in for a surprise!
Harriet's favourite is the Sambucol® Pastilles IMMUNO FORTE + Vitamin C + Zinc. These help to support the immune system, contain no added sugar and are free from artificial colours. The Black elderberry flavour was an instant success. Children aged six to eight can chew up to four a day, older children and adults up to eight.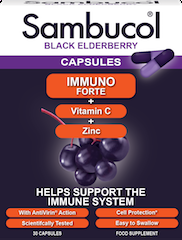 Her second favourite was the Sambucol® liquid – one teaspoonful for ages three to 12, two for teens and adults – which you take once a day.
The Sambucol® Capsule was Harriet's third choice. She had no trouble swallowing this until we realised the are for age 12 plus.
PWT rating: ♥♥♥♥♥
Sambucol® products are available from pharmacies and health food outlets.