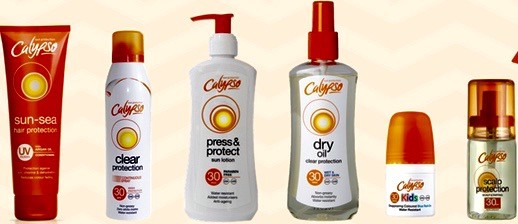 Sun protection is an absolute must for everyone in the family. Young babies should never be exposed to the sun's rays and older, balder heads should be protected by a hat or an application of scalp sun protection. However it's sometimes hard to convince children (and some adults!) just how important it is to protect your skin and prevent burning. Calypso has a range of products to suit everyone.
Harriet can be a little madame when it comes to sun cream so finding something she enjoys applying and wearing is a bonus. She was thrilled with the Kids SPF30 High Protection Disappearing Coloured Blue Roll-on Lotion (£3.99/50ml and lasts for 18 months). She loved the slightly citrus scent and the colour. The same went for the Kids SPF30 High Protection Disappearing Coloured Blue Lotion Spray (£7.49/200ml and again lasts for 18 months).
I tried the Calypso Clear Protection Continuous Spray 30SPF for adults (£7.99/175ml) which is a dry mist that leaves no white marks.
Apply all sun protection about 20 minutes before going outside and reapply every couple of hours.
None of these products sent to us to try, has been tested on animals, is water resistant and each is in recyclable containers. All products are hypoallergenic.
PWT rating: ♥♥♥♥♥
For further information on the complete range and to buy visit Calypso Sun.