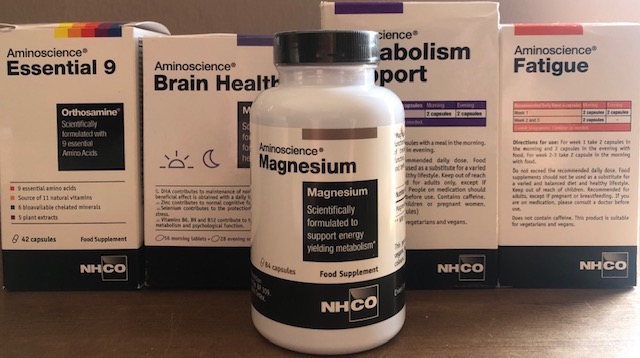 With the trend towards a more plant-based diet, many of us are missing out on essential nutrients – amino acids. Of the 20 used by humans, nine are essential. These are found in protein: meat, poultry, eggs and soya products. The last official dietary recommendation for the amount of protein was published in 1991: 45g for women and 55g for men but that is now considered to be too low.
While the best way to get the nutrients our bodies need is though the food we eat, many of us are lacking in certain areas. For instance vegetarians, vegans, and those with food intolerances may be missing out on essential amino acids which can have an effect in so many ways.
Aminoscience® has developed a range of products to plug these gaps. You can support your health the easy way, daily amino acid supplements
Aminoscience® Essential 9
This supplement can help you to lose weight, improve sleep and balance hormones. It contains vitamins B1, B2, B3, B5, B12 and C plus copper, iron and magnesium which all contribute to normal energy yielding metabolism.
Take one tablet between meals. This is a six week programme that you can continue as necessary. Essential 9 can be taken with another in the range.
Aminoscience® Brain Health
Sharpen your brain, bust stress and get your mood on an even keel with this innovative food supplement containing Vitamins B6, B9 and B12, selenium and zinc. The evening capsule provides 250mg of DHA which contributes to normal brain function.
Take two tablets in the morning after food and one capsule in the evening after food. This is a four week programme which can be continued as required.
Aminoscience® Metabolism Support
Burn fat faster and support healthy weight loss with new amino-acid based formula. The main constituents are: Vitamins B1, B3, B5, and B6 plus zinc.
This is a four week programme. Two capsules are taken with a meal in the morning and the evening.
Aminoscience® Fatigue
Apparently a quarter of us blame a poor diet for feelings of fatigue: The Fatigue supplement helps you fight it, with new scientifically backed amino acid formula that contains Vitamins B6 and C as well as other nutrients.
A three week programme, you take these with food two in the morning and two in the evening during week one, and two each morning in the following two weeks.
Aminoscience® Magnesium
As nearly half of UK adults suffer from low magnesium intakes essential for muscle and energy health, this new dietetic innovation is set to help to bridge the gap. Magnesium contributes to the normal functioning of the nervous system, a reduction of tiredness and fatigue and normal muscle function.
Two capsules taken per day as a six week course.
All of these can be taken long term with no harmful side-effects.