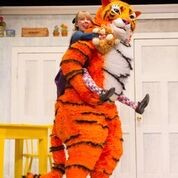 The Tiger Who Came To Tea is one of six-year-old Harriet's all time favourite books. She also adores the theatre and was excited all the way there. Needless to say she was ecstatic when we arrived at Cadogon Hall in London and were shown to our seats, counting down the minutes till it started.
The production, adapted and directed by David Wood, began with the actors entering the audience and interacting with the children, and this continued throughout the play. All children immediately engaged with the cast and were soon shouting back responses to the questions and jokes directed at them and joining in with the songs.
The tiger – who although he speaks in Judith Kerr's book doesn't on stage – was truly realistic and the children were amazed. Especially when it really did eat all the cakes, buns etc at the tea table and made them disappear on stage!
Harriet thought it was really funny that Daddy (Benjamin Wells) didn't believe Mummy (Ashley Tucker) and Sophie (Abbey Norman) when they told him about the tiger – until he he was revealed during the the curtain calls at the end.
The performance really brought to life The Tiger Who Came To Tea. It was really magical and I would recommend it for all ages.
PWT rating: ♥♥♥♥♥
For more information on performance times and to book visit Cadogan Hall or call the Box Office: 020 7730 4500
Ticket Prices: STANDARD – £24, £16.50, £14.50
GROUPS 10+: £10 plus 11th ticket free
GROUPS 6+: £15 Call Groups on 020 7730 4500
A transaction fee of £3 applies to all for phone & online bookings
No booking fee for tickets purchased in person at the Box Office
Running time: 55 minutes – no interval
Suitable for ages 3+