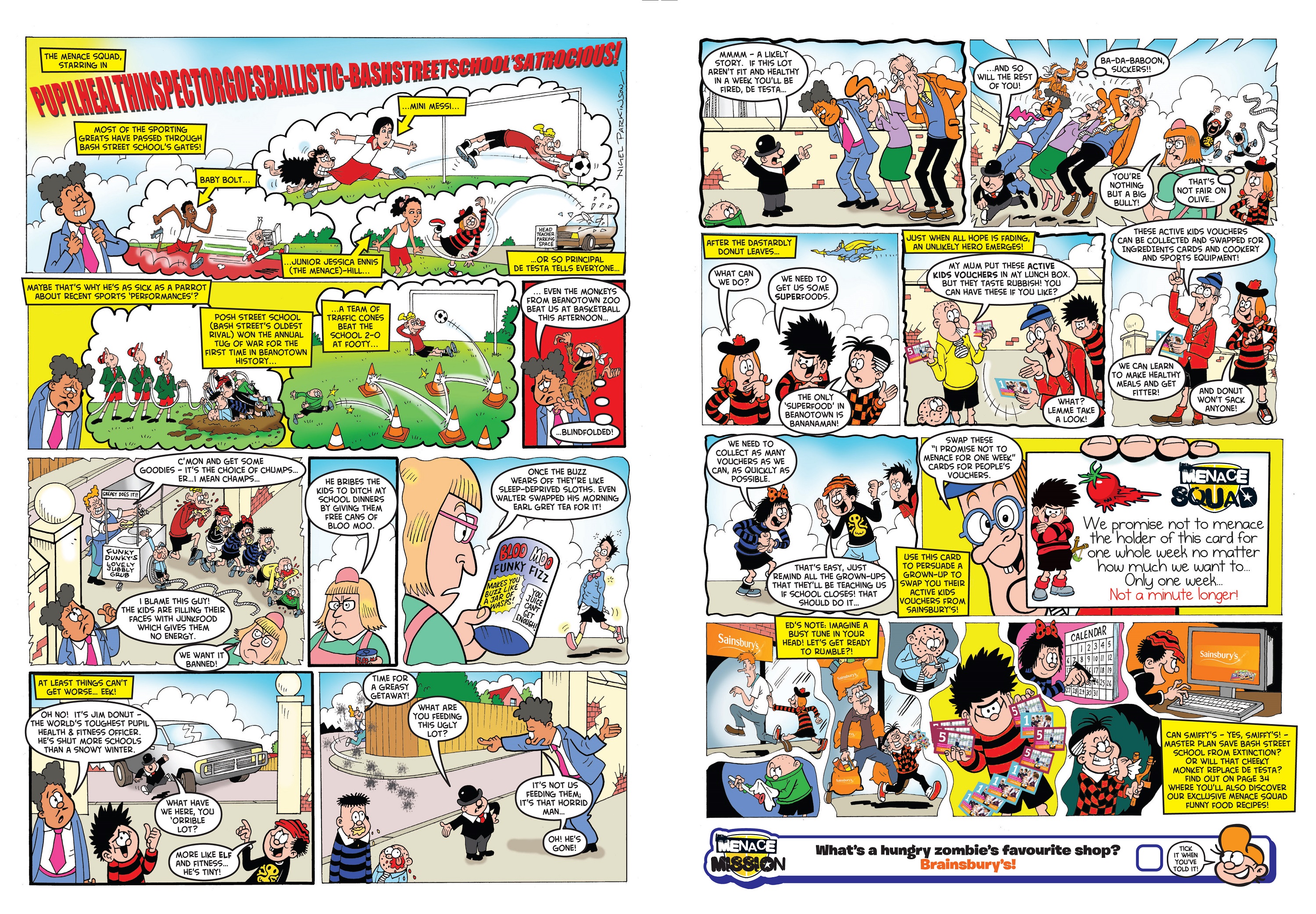 Sainsbury's has partnered with Beano to encourage and educate young people on the benefits of healthy eating and physical exercise as part of the launch of the Active Kids voucher scheme.

The partnership, which features in next Wednesday's (28 January) comic, shows Dennis and the Bash Street Kids gang realise that the reason they keep losing sporting challenges against their oldest rivals, the Posh Street pupils, is the rubbish food they are buying from a dodgy snack van lurking outside the school. In a bid to change their fortunes and get fit for their looming sports day, Dennis and the gang run around Beanotown gathering Sainsbury's Active Kids vouchers. Once collected, they exchange them for cooking and sporting equipment which helps them prepare and overcome Rupert Brightly-Smugg and his posh friends.
Dennis the Menace and the Bash Street Kids are swapping chaos and cheekiness for healthy cooking and active lifestyles, thanks to a groundbreaking partnership with leading supermarket, Sainsbury's.

Tara Hewitt, Head of Active Kids, said, "We are delighted to be partnering with iconic comic The Beano. Active Kids is all about giving kids the knowledge, understanding and equipment to enjoy an active lifestyle and a balanced diet. The Bash Street Kids, with their cheeky attitude and mischievous behaviour, are the perfect companions to show kids the benefits of what can be achieved by collecting vouchers, eating healthily and being active, now and in the future."

Mike Stirling, editor-in-chief of The Beano, comments, "Dennis and the gang are joining the thousands of children up and down the country in learning about eating well and being active. With all of the extra energy they will have, I am in no doubt that they will cause even more havoc and set up even more pranks on unsuspecting grown-ups and the Posh Street Kids!"

This year, Sainsbury's Active Kids scheme is bigger than ever with a wide range of activity and cooking equipment, plus coaching and experiences on offer for children of all ages and abilities. Vouchers are available from Wednesday 28 January until Tuesday 5 May 2015, from all main Sainsbury's stores, Local stores, petrol stations and groceries online.