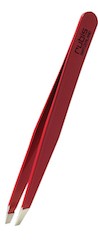 A favourite of make-up artists Bobbi Brown (who described them as "the Ferrari of tweezers"), Fred Hamelten, Wingie, Leco van Zadelhoff and countless more celebrity MUAs, Rubis® tweezers are the ultimate luxury beauty staple, offering the utmost Swiss-precision. Crafted with superior calibrated tension and perfectly aligned tips that close evenly and firmly for advanced pulling power, you can grip even the smallest of hairs for a professional, airbrushed finish. Rubis are also the preferred beauty tool of choice for makeup houses including MAC and Estée Lauder.
The Swiss quality tools have become a celebrity must-have, with Emmy Rossum (American Actress, most known for her leading role in the US series of Shameless) being the latest celebrity to hail their amazing, accurate results.
Rubis made their name crafting precision tweezers exclusively for the Swiss watch industry, where they were used to place delicate ruby stones into watches made by Patek Phillipe, Cartier and Rolex, where only the most precise tweezers of the highest quality can be used.
Spotting a gap in the beauty market for tools that were as accurate as they were chic, 25 years ago female owner and CEO, Fides Baldesberger, branched into beauty tools using the same factories and skilled craftsmen, and as a result, Rubis tweezers cannot be matched for quality. So rigorous are the brand about quality, each item goes through a working process of 45 steps and is tested individually under a magnifying glass
The epitome of "sincere luxury", Rubis tweezers and tools are ergonomically designed, made of resilient, antacid, stainless steel and can be sterilised in acid or boiling water at any time. The Rubis range of tweezers enable individuals to become masters in creating beautiful brows and are available in a range of designs to suit all individual tastes. Acid-proof, anti-magnetic and rustproof, the Rubis tweezers are finished with an anti-bacterial coating that releases silver ions to neutralise bacteria, germs and other pathogens.
Anyone who thinks a pair tweezers is just a pair of tweezers hasn't used the Rubis ones. They fulfil the maker's claims and are perfect for any make-up bag.
Ideal for a present of stocking-filler for anyone who demands the perfect pluck.
PWT rating: ♥♥♥♥♥
Rubis can be found at LookFantastic and Cult Beauty, from £19.50.