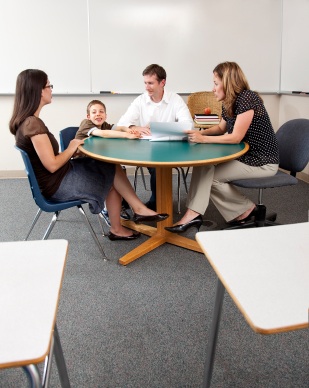 Parents' evenings
are one of the best ways
teachers
can communicate with the parents of their
pupils
but so often both
teachers
and
parents
come away from them feeling
dissatisfied
. Misunderstandings can happen if you are
unfamiliar
with the school or the
syllabus
and, let's face it, some parents still feel
slightly intimidated
facing a school teacher!
According to a
survey
of
2000 parents
of primary school aged children last year,
55 per cent
of parents felt
parents' evening
did not really tell them how their
child
was
progressing
.
On the other hand,
teachers
are under an enormous
time constraint
and often feel inhibited or reluctant about giving
bad news
about a child's
progress
or
behaviour
in class. Some parents
react inappropriately
or aggressively.
Top ten tips to get the most from a parents' evening:
Think about the information you would like from the teacher.
Take time to look through any workbooks/projects your child has been working on.
Prepare some questions you'd like answered in advance.
Arrive on time for your appointment.
If the teacher's answer doesn't satisfy you, ask again in a different way.
If the teacher doesn't know the answer ask her to contact you later by letter or email.
Ask what you can do at home to help.
If you have any concerns about his behaviour at home, ask what he is like in class. Often children behave very differently.
If you feel any issues you have are not being addressed, put them in writing afterwards and send a copy to the head of year/department or head teacher.
Remember communication is two-way – always let the school know if there are problems at home that may affect your child's work.