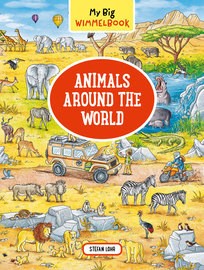 Introducing the new My Big Wimmelbooks series by Stefan Lohr and Max Walther – board books to delight very young children from Workman Publishing.
We were sent My Big Wimmelbook – Animals Around the World. Each double page spread is an absolute joy to behold with a colourful cast of characters, a pair of wildlife photographers, a daredevil adventurer and more. The attention to detail is second to none and there are so many different "stories" to explore. Who is flying a kite? Which bird has caught a fish? How many dogs has the dog-walker collected?
You will never run out of things to talk about with this book and each time you open it you'll spot something you missed before. Plus the books can be "read" in any language!
There are three others in the series so far:
My Big Wimmelbook – At the Construction Site
Sarah the architect is very busy, whether she'd consulting her blueprints or helping with the heavy lifting.
My Big Wimmelbook – On the Farm
Whether he's transporting a pig or showing it off at a fair, Grandpa Earl is determined to use his old tractor no matter what.
My Big Wimmelbook – Cars and Things That Go
Kevin meets mishap after mishap in his shiny new sports car.
These titles are perfect for introducing books and themes to babies upwards. They give adults subjects to talk about and pictures to point at while babies and young children can identity there favourite animals.
PWT rating: ♥♥♥♥♥
All titles available from bookshops and Amazon:
My Big Wimmelbook—Animals Around the World
My Big Wimmelbook - At the Construction Site (My Big Wimmelbooks)
My Big Wimmelbook - On the Farm (My Big Wimmelbooks)
My Big Wimmelbook - Cars and Things That Go (My Big Wimmelbooks)