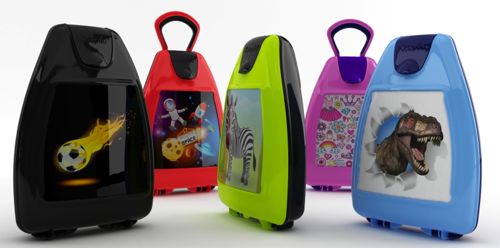 Kidzpod
is a name you may not recognise but if you are in the market for a new
lunchbox
then it is certainly one to remember. The
Kidzpod children's lunchbox
has proved very popular with Pippa, aged 4 3/4, who has been
testing
the attractive
pink model
featuring a purple clasp and
convenient handle
. In Pippa's own words "It's really cool and pretty and looks like a handbag". We have been testing
Kidzpod
for the last few weeks and her fondness for it shows no sign of stopping.
The
children's lunchbox market
is full of options and I admit that we have owned a fair few
insulated "character" bags
as Toby and Pippa's tastes have changed and the
insulated bags
have become past their best.
Kidzpod
was designed by parents who wanted a
lunchbox
that is easy to clean inside and out,
hygienic
and could be
customised
so that it changes with the children. On all counts they have
succeeded
with a well designed product which boasts
anti- bacterial protection
added to the design at the time of manufacture so it's hygenic credentials are second to none. I have found it
easy to keep clean
because there are no seams or stitches to get dirty unlike
traditional insulated chiller bags.
The
cover
is designed with a
plastic film
for your child to insert their
own picture i
f desired. Pippa is fond of the
design
provided with hers so we have yet to test out other options. The
box
has a
plastic clasp fastening
which the children find very
easy to use
whilst I struggled initially, once they showed me the knack it was easy. The
Kidzpod
comes with a clear water bottle and has a lovely modern aesthetic.
PWT rating:

♥♥♥♥♥
Kidzpod
sells at £14.99 and is available through the
Kidzpod website.