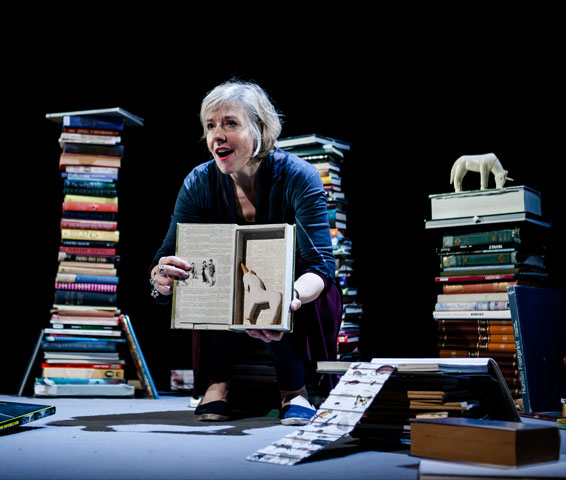 I Believe in Unicorns is simply wonderful theatre – Danyah Miller performs a veritable tour de force in this one woman show with a huge cast of books and stories – based on Michael Morpurgo's children's novel and produced by Wizard Presents.
Danyah came among the audience before the show began and asked adults and children about their favourite books. Then she was on stage and in character making a speech about the opening of the new library and moving on to the story of Tomas Porec who was a reluctant pupil and reader who was gradually won over by the power of books and the incredible story-telling prowess of the Unicorn Lady and her unicorn.

Harriet who hasn't yet read the book – but took her copy to be signed by the author – was captivated. The props on stage are minimal: step ladders and piles and piles and piles of books. However the books opened to reveal pop-up houses, pop-up forests and all manner of magic including a book within a book within a book... until a miniscule book was revealed. "Harry Potter" joked Ms Miller.
For all the humour and the fun, I Believe in Unicorns interweaves the tragedy of bombing during the Second World War and the burning of "unacceptable" books by the Nazis with an imaginative retelling of Noah's Ark when the unicorns didn't get aboard because they thought Noah's grandchildren were playing hide and seek.
Danyah Miller is amazing as she reveals how Tom Porec and his dad become heroes in saving so many books from a fire in the town's library.
Directed with sensitivity and flair by Dani Parr, the Wizard Presents production is designed by Kate Bunce, with lighting by Will Evans, I Believe in Unicorns had its premiere at the Edinburgh Fringe Festival in 2013 and was at the Vaudeville for Kids Week last summer. The show is at the Vaudeville again until 30 August before touring throughout the UK in the autumn.
We loved the play and were lucky enough to be at a special performance attended by Michael Morpurgo who joined a Q and A session afterwards with Danyah Miller and Dani Parr. Michael proved to be as entertaining on stage as he is in his books.
Recommended for an audience aged five plus, this is children's theatre at it's best. If you don't see it in London, catch it on tour for an unmissable experience. You'll come out believing in unicorns or hoping that they really exist.
PWT rating:♥♥♥♥♥