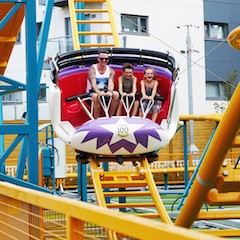 Since re-opening in 2015 and expanding in 2017 after additional investment, Dreamland Margate in Kent has been delivering exciting experiences for international visitors across its estate.
Dreamland "gives visitors all ages the chance to experience stunning vintage rides, pop-up entertainment, art installations and eclectic street food, and boasts a year-round programme of live music and events".
The vintage amusement park is currently free to enter and wristbands for rides can be purchased at a discount online at least 24 hours in advance: £12 for children under 125cms and £15 for adults and children over 125cm.
Harriet was really looking forward to our visit which we'd planned to do in two halves – when it opened and then later in the afternoon after some time on the beach and in the sea.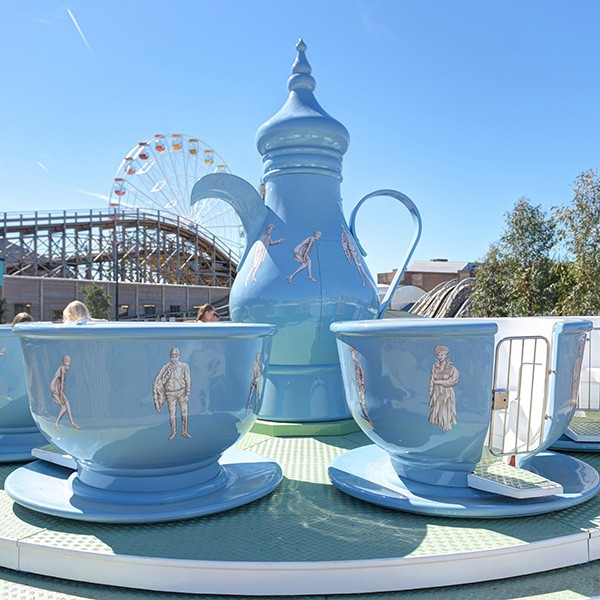 Our first disappointment was that on arrival we were told the Scenic Railway would not be in operation that day. Of course there is a management disclaimer to cover such eventualities but it seemed strange that this should happen in the first week of the school holidays. Our second disappointment was that the Waltzer was not open and would not be for an hour or so...
Harriet was most looking forward to the Dodgems but sadly they have changed the height requirement this season to 140cms (and you have to be 14 plus to drive). A bitter blow for Harriet. She did enjoy lots of the rides especially PinBall X and, in the afternoon, the Walzer but we both thought the Ferris Wheel was boring. Some of the rides were just too much to contemplate!
The pricing of food and drink is competitive and there are plenty of areas – and shade – to relax in. Dreamland is best suited to older children who can go on the rides unaccompanied. There are a few rides for much smaller children but these wouldn't justify buying an all-in armband. You can do a "pay as you go" which would be more cost effective.
PWT rating: ♥♥♥♥♥
With excellent road and rail links, Dreamland Margate in less than 90 minutes from central London and is a major part of the on-going transformation of Margate into one of the UK's trendiest seaside towns. For more information, visit www.dreamland.co.uk