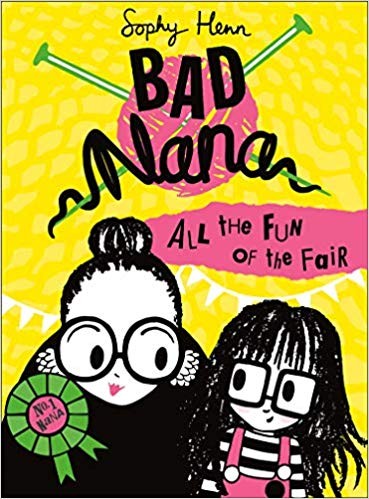 Published by HarperCollins, talented author/illustrator Sophy Henn introduced Bad Nana in Older not Wiser – three short stories that entertain by adults and children alike.
The second in this engaging series, Bad Nana explores All the Fun of the Fair.Anyone who has ever been to a fair in a village, church, small town or school will recognise characters depicted here by the narrator Jeanie aged seven and three-quarters.
Her three best friends, Wilf, Marley and Sukey are all keen participants in the competitions at the fair (and so is Dad with his cake) but they weren't expecting Bad Nana's arch enemy Mrs Farquar-Haha to be the chief judge – in everything – and her granddaughter Georgina is competing too.
Bad Nana, of course seeks to address the problem with hilarious results.
I love this book and look forward to more Bad Nana adventures although I think Jeanie's nanas seem to be more like great-grandmothers. Not sure how many grannies use lace doillies now or wear false teeth!
The illustrations a full of fun and drama and I love the six conclusions Jeanie comes to at the end of the day.
PWT rating: ♥♥♥♥♥
All the Fun of the Fair: A wickedly funny new Children's book for ages six and up (Bad Nana, Book 2)
and
Older Not Wiser: A wickedly funny new Children's book for ages six and up (Bad Nana)
both published by HarperCollins are available from Amazon and bookshops.