It seems I never learn my lesson when it comes to shoes. Countless times I have hobbled home or given up and walked barefoot. But thanks to a pair of fabulous foldable gold shoes I'll now be able to arrive home in style and I will not be alone.
In fact the iconic flat shoe brand and foldable party shoe creator, Cocorose London, has founded its own style-cred awareness day – Blister Friday – taking place on Friday 29 November, to keep women's feet in better shape and enhance their safety whilst getting home from parties.
"Cocorose London Blister Friday" is the first night of the pre-Christmas party season, and one on which various awards ceremonies will also be staged UK-wide. Fashion victims of all ages will find it's truly murder on the dance floor, thanks to their unforgiving heels.
Alas, the Blister Friday "walk of shame" will be performed by women in every city centre and at every party venue, who hobble home, or lose fashion credibility by going barefoot, with none of Cinderella's fairy-tale grace. Many will (literally) be plastered; others vulnerable.
Luckily, foot angel Cocorose London, has an array of party shoes, from black to gold, to help savvy sole sisters make it right through the night as first-choice party-night footwear.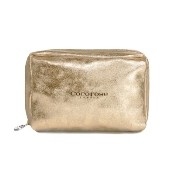 Alternatively, shoes in the hybrid collection nestle in a gorgeous travel purse so as to be swapped for agony-inducing heels when needed. Here, a little carry-bag unfurls from the purse's pocket, to carry heels home safely.
PWT rating: ♥♥♥♥♥
To help reduce the number of blister sisters 2019 and assist the 11 per cent of women who have felt at-risk when getting home from a party, as they were having to walk barefoot (according to Cocorose London's survey commissioned through Gorkana Surveys), Cocorose London has created a BLISTERFRIDAY code. This offers 12 per cent off at Cocorose London and is valid site-wide (excluding gift vouchers) until Sunday December 15.
Shoe prizes are up for grabs by Cocorose's Instagram followers who reveal their worst blister scenarios from the past.
Head to Cocorose London or to lookbook to view all the fabulous choices, swerve becoming a Blister Friday victim and keep your style-cred intact, as a true party princess.