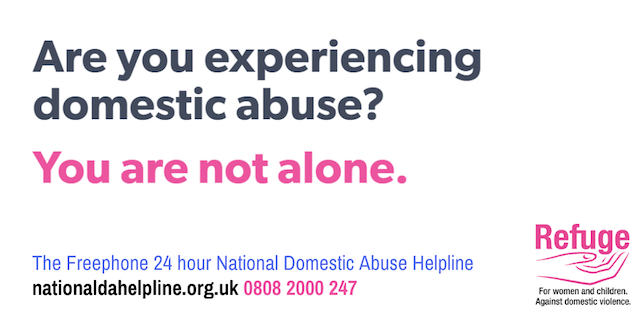 During the pandemic, opportunities for women to reach out and access support are so limited so every woman needs to know this number – 0808 2000 247 – and understand they can call for help 24/7, 365 days of the year.
Two women a week are killed at the hands of a current or ex-partner in England and Wales.
The Freephone 24 Hour National Domestic Abuse Helpline is open. If you're scared of your partner and want to speak confidentially, an expert team is here and you can also request a call back at time that's safe for you: http://bit.ly/2sHLeGs
You are not alone.
Whether you're a survivor yourself, or you want to show your solidarity with women facing abuse please consider making a donation of £10 to cover the cost of a call. It takes two minutes and could save a life.
If you are a man or woman suffering domestic abuse you can go into any pharmacy and ask to speak to ANI. You will be taken into a consulting room where you will be able to access help. ANI stands for Action Needed Immediately.