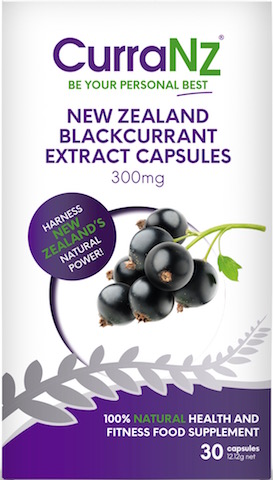 The New CurraNZ Immune Support product includes beta glucans and a combination of anthocyanins from four different fruit sources – all demonstrated to effectively support immunity. The benefits of polyphenol rich fruits are only now becoming fully appreciated by scientists, but uniformity of product is essential to ensure meaningful research can be performed and all CurraNZ products consistently deliver this, which means that consumers can be assured of the highest quality as well as guaranteed efficacy.
A 100 per cent natural food supplement, CurraNZ Immune Support includes Immuno3BTM - a proprietary formulation of nutrient-dense botanical polyphenol compounds, plus CurraNZ blackcurrant extract, together with blueberries and elderberries. CurraNZ Immune Support includes botanical compounds – anthocyanins – responsible for delivering the immune-enhancing effects which help to curb the common cycle of suppressed immunity and rising inflammation and help prevent opportunistic infections.
Anthocyanins interact with a specific type of immune T cell – an important arm of the immune system – to activate both innate and acquired immunity and support mucosal defences. By helping manage inflammation in the right way, at the right time and activating the body's naturally-occurring antioxidant systems, they allow the immune system to "ramp up" in anticipation of targeting and fighting pathogens.
Elderberry fact: Studies have found that symptoms of colds and Influenza may be shorter and less severe with elderberry supplementation, compared to placebo.
Each capsule of CurraNZ Immune Support contains the equivalent of 2,500mg of fresh blackcurrants, blueberries, and elderberries. Completing the Vegan-friendly formulation are nature-identical sources of Vitamins C, D, A, Beta Glucans and Selenium, which are important contributors to the normal function of the immune system.
Free of synthetic ingredients, the Vitamin C used in CurraNZ Immune Support is sourced from acerola cherry one of the richest natural sources of Vitamin C, to perfectly complement the berry botanicals in this natural supplement. Each capsule of CurraNZ Immune provides 75 per cent of the recommended daily requirement for the average healthy person to consume.
Beta-glucans have been used in traditional Chinese medicine as immuno modulators for centuries. These groups of complex sugars are sourced from brewer's yeast. As with anthocyanins, they act to trigger the host's immune responses and enhance innate immune memory, whilst protecting against bacterial re-infection.
Vitamin D plays a crucial role in the proper functioning and activation of the immune system — the first line of defence against infection and disease. With the prevalence of low Vitamin D in the British population, particularly in winter, each capsule provides 200 per cent NRV to activate immune system function. Vitamin D has both anti-inflammatory and immuno-regulatory properties and enhances T-cells and macrophage activity, which protects your body against pathogen.
Vitamin A from natural-source beta carotene, is a micronutrient that is crucial for maintaining vision, promoting growth and development, and protecting cells that protect and enclose organs and mucus integrity in the body. Vitamin A is known as an anti-inflammation vitamin because of its critical role in enhancing immune function.
Selenium, from selenium-rich yeast, plays a significant role in the health of the immune system, with each capsule providing 100 per cent NRV. This antioxidant helps lower oxidative stress in your body, which reduces inflammation and enhances immunity. Studies have demonstrated that increased blood levels of selenium are associated with enhanced immune response.
30 x 680mg capsules of Vegan-friendly CurraNZ Immune Support retails for £15.49 and is available from CurraNZ and all good independent health food and pharmacy retailers.
Directions for use one to two capsules daily with water.