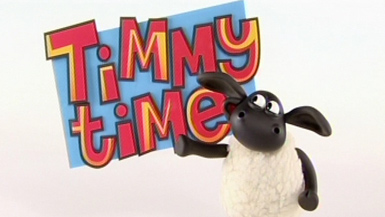 Timmy is the mischevious lamb, who was prone to crying hysterically every time he lost his dummy in past Shaun the Sheep episodes, much to the delight of Toby aged four. Timmy Time is pitched at the CBeebies younger viewers, centred around a "farmyard nursery" where Timmy and his fellow tiny animals play. Stripey Badger, Finlay Fox, Ruffy Dog, Paxton Pig, Otus Owl, Kid Goat, Apricot Hedgehog, Mittens the Kitten, Yabba the Duck - get up to all sorts of scrapes as they learn how to share, work as a team, be kind and helpful and make new friends.

Overseeing the 52 episodes are Osbourne Owl and Harriet Heron, who lend a kindly air of authority to proceedings. Timmy is three (in sheep years) and Toby has sampled a few of his early adventures, including "Timmy Wants to Win" and "Timmy the Artist". In the former, our little hero has a go at every event in the nursery sports day, failing time and time again to get a winner's sunflower. In the end, Timmy forsakes victory in favour of helping his friend Yabba, and finds that he's a big winner in everyone's eyes.

Timmy Time is perfectly pitched at the nursery age child, with a soundtrack of enthusiastic grunts, bleats, mews and barks, rather than any spoken dialogue. The characters are cute and amusing, with plenty of spills, bumps and accidents to keep children entertained. Toby is well aware that school is not far away for him, so the nursery theme has perhaps got slightly young for him.
For parents, this series looks set to be another winner from Aardman, with detail-crammed ten minute episodes that stand up to repeated viewing. We think this will be a welcome addition to the CBeebies schedules and Toby is looking forward to Timmy's arrival on television.