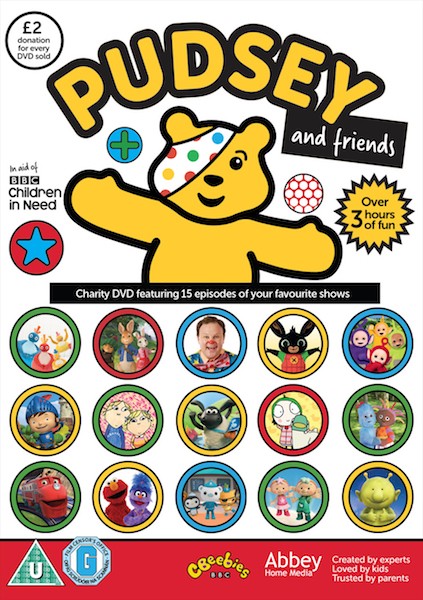 For the very first time BBC Children in Need and Abbey Home Media are bringing together all your favourite CBeebies shows on DVD to help disadvantaged children and young people throughout the UK. A minimum of £2 from the sale of every DVD will go towards helping children and young people across the UK have a safe, happy and secure childhood and the chance to reach their potential. This donation has been made possible through the generosity of the many companies and individuals involved who have either contributed their shows or services to this unique project with no charge.
This very special DVD compilation is a great way of entertaining young children with its familiar, well-loved characters and diverse range of fun and engaging programming.
Pudsey and Friends features the following episodes:
Twirlywoos – Turning
Peter Rabbit – The Tale of Old Rusty
Something Special – Fishing
Bing – Hearts
Teletubbies – New
In The Night Garden – Cough
Charlie & Lola – I Can Train Your Dog
Timmy Time – Timmy's Picnic
Sarah and Duck – Sarah, Duck and The Penguins
Chugginton – Trainee Camp
The Furchester Hotel – Peckity Woodpecker
Octonauts – Porcupine Puffer
Cloudbabies – Rainbows Orchestra
Q Pootle 5 – Pootle's New Spaceship
This DVD compilation with its familiar well-loved characters and diverse range of fun and engaging programming offers great entertainment for CBeebies fans whilst also helping raise funds for a fantastic cause. A double winner.
PWT rating: ♥♥♥♥♥
BBC Children In Need - Pudsey & Friends [DVD]
is available from Amazon.
Children in Need will be broadcast on Friday 18 November, 2016.