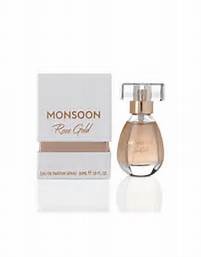 Fragrance is such a powerful mood enhancer and it can lift our spirits immediately especially during autumn and winter months.
If you would like your summer fragrance to last longer, the first step is too prep your skin thoroughly every day. To ensure the fragrance molecules saturate into the skin, it's essential to use a good body oil or moisturiser. Also remember that your shower routine plays a huge part in the process. Heavily scented shower gels will stick to the skin and create an aroma that will last all day. If you want your favourite fragrance to really create an impact, keep it simple and fragrance free.
Our top fragrance pick is Monsoon Rose Gold (£35/100ml) which sends you straight back to the lovely hot summer evenings in the Mediterranean. It is a very feminine and romantic fragrance; full of lemon, rose and jasmine which makes you re-live your beautiful summer memories immediately. 
The traditional way people tend to distribute their fragrance to spray onto pulse points – such as neck, elbows and wrists. However, my top insider trick is to spray the inside of your arms and spritz a scent mist into your hair. This will create a bigger statement, and will also ensure the scent lingers for longer as these warmer areas of your body will help diffuse the fragrance throughout the day.
We would also suggest spraying the fragrance into the air and walking slowly through the mist. By doing that, the spray will distribute the scent evenly across your body and leave you with a hint of fragrance throughout the day.
Anne Coates comments:
I am really conservative when it comes to perfume so I rarely change it. However I was tempted by Monsoon Rose Gold. I also tried the walking through the mist of a fragrant spray as a way of wearing the perfume. It works and several friends have commented on my new fragrance.
PWT rating: ♥♥♥♥♥