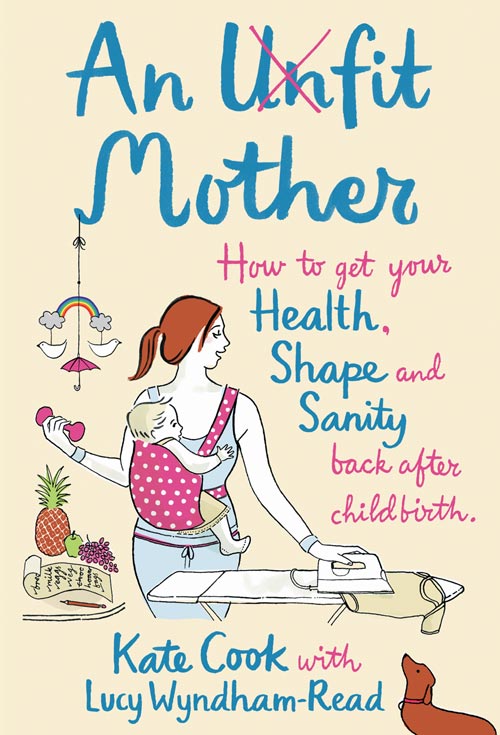 An Unfit Mother was given to me to review when my second baby was one week old. She is now eight weeks and I have dipped into it during numerous feeds. As a result, my feelings about the book have varied with my changing energy levels.
The cover copy describes An Unfit Mother as a "chic lit" style, a no fuss plan designed to encourage new mothers to take control of their diet, exercise and sense of wellbeing without beating themselves about slip-ups along the way.

The book covers getting back into shape after pregnancy by combining nutrition and exercise routines with the focus on losing baby-weight safely and successfully. It also focuses on how to find the time, energy and motivation to get going and keep going and rebuild self-confidence.
An Unfit Mother is full of quotes from real mums. I found it upbeat and certainly easy to read, which is essential with a young baby. The terms yummy and slummy sit uncomfortably with me but ultimately Kate Cook offers sensible advice and is honest about the feelings of frustration, self-doubt and lack of control which accompany life with a young baby, as well as offering numerous coping mechanisms and pieces of advice.

I really liked the "be nice to yourself" tips which are short and straightforward such as "don't feel guilty about taking time out for yourself – it is really hard work being a mum" and the "MUST do" tips throughout An Unfit Mother which make so much sense, such as "don't feel bad about being knackered as you are!".
"Don't judge happiness on the scales" is another typical statement from the book which rings true with me and is a reminder that this book is bursting full of great morale-boosting tips and nutritional advice that I shall be adopting.
I really like An Unfit Mother and will be loaning it to friends whilst they are pregnant – better to be forewarned!
Published by Collins, An Unfit Mother by Kate Cook with Lucy Wyndham-Read is available from Amazon. To order a copy click the link below:
An Unfit Mother: How to Get Your Health, Shape and Sanity Back After Childbirth