As part of an organised excursion bookable usually from the holiday reps in the hotels or through independent travel agents, this trip is ideal for families with children aged 12 and above, provided they don't mind early morning starts (a 4am alarm call on the second day) and a couple of long coach journeys.

The first visit was to the world's third largest Roman Amphitheatre at El Djem, which I thought equally as impressive as the Coliseum in Rome. The next stop was Matmata and the cave dwellings inhabited by the Berber tribesman, which had been one of the settings of the Star Wars films. A visit inside one of the caves revealed the Berber tribe's simple but comfortable way of life. However I did notice a few satellite dishes around!

The final stop on the first day was Douz, otherwise known as the Gateway of the Sahara Desert. Here we had the opportunity to take a short trip into the desert either on foot, by camel or for the less adventurous, like myself, by a horse and carriage. We were then taken to the hotel, where a swim in the pool was very welcome and refreshing, after a long day on a coach and sightseeing in the heat.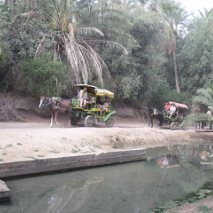 The next day started with a visit to the salt lakes at Chott El Jerid, which was well worth the 5am departure, as the sunrise and beautiful colours along the lakes were spectacular. The trip then continued on to Tozeur with a visit to an oasis, which was a complete contrast to the arid scenery of the desert. Amongst the numerous lush plants, there were date palms and bananas growing and it was a very tranquil experience to see them all by horse-drawn carriage.
We were then driven in 4x4 vehicles to the Atlas Mountains with its rugged scenery and looked across to Algeria before returning via the Chebika and Tamerza oases to pick up the coach and make the long journey northward to the holy city of Kairouan. Unfortunately a visit inside the impressive mosque was not included, which was rather disappointing as it is considered to be the oldest Muslim place of worship in Africa and the fourth holiest site in Islam.
I would definitely recommend this excursion if visiting Tunisia. The overnight stay in the hotel was extremely comfortable with a substantial buffet evening meal and breakfast. The restaurants selected for lunches were of a high standard and there were several short stops during the journey. The whole trip, together with a little extra for drinks, cost in the region of £100.
PWT rating: ♥♥♥♥♥