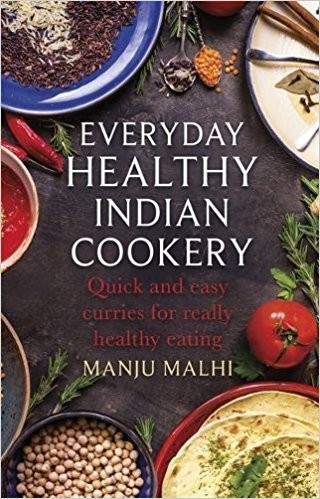 I love Indian food and where I live there are some fabulous restaurants. However the take-away never really lives up to the eating-in experience so I was interested to see Manju Malhi's Everyday Healthy Indian Cookery. Divided into 12 chapters and starting with an introduction extolling the benefits of spices.
Chapter 1 gives recipes for nine easy to prepare spice blends which can be stored in airtight away from sunlight plus a recipe for Indian Chicken Stock.
The only "meat" I eat is chicken so I immediately made for Chapters 3. 4. and 5: Vegetables, Lentils and Pulses and Chicken where I found most of my favourite dishes plus others which were unfamiliar. Each recipe gives a preparation time, a cooking time and how many the dish will serve. Each has a short intro about the dish or how it can be modified.
Other chapters are devoted to Fish and Seafood and Lamb plus there's one on Chutneys and Relishes, the book concluding with Drinks and Deserts.
Rooted in the streets, homes and markets of Manju's India, Everyday Healthy Indian Cooking is a no nonsense cookery book which reflects the delicious flavours and aromas of the curries and health-giving spices from the author's years of travelling across India where she explored and experienced the vast and varied cuisines of the country and the Indian culture which is combined with the realities of urban Western life and has come up with her own unique Brit-Indi style of food.
A wonderful addition to a cook's bookshelf.
PWT rating: ♥♥♥♥♥
Everyday Healthy Indian Cookery: Quick and easy curries for really healthy eating
by Manju Malhi and published by Robson is available from Amazon a bookshops.