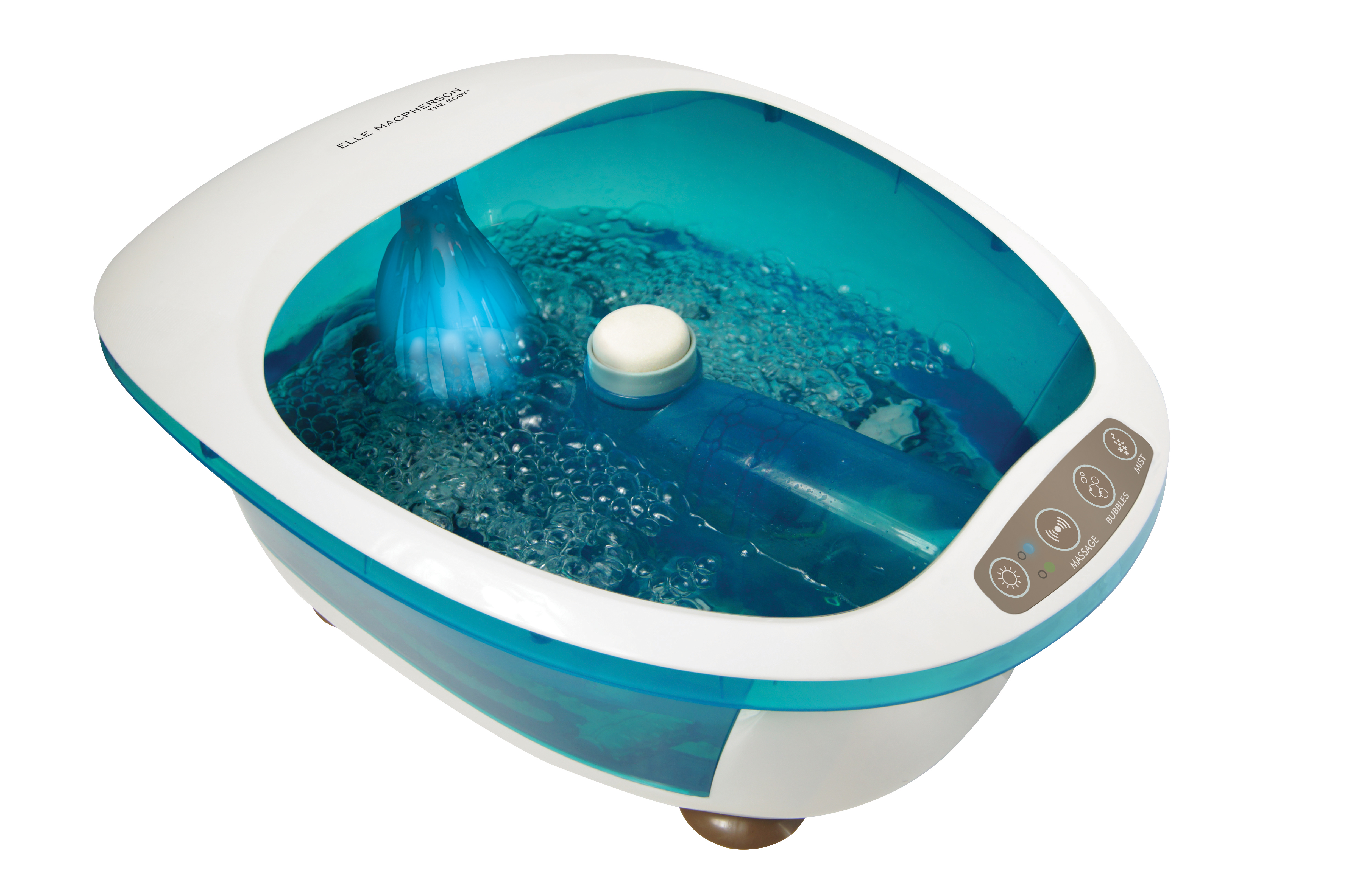 The instructions Elle Macpherson Aromatherapy Footspa are straightforward to follow. The footspa is filled with warm water and there is a choice of vibration or bubble massage. These can be used together or separately but it is only the bubble massage that has a keep warm function for the water. There is also an aroma mister function with LED lights that can be used with the other functions but it was not clear whether this could be used alone should you want to. Essential oil can be added to the mister. The vibration massage can be used without water as well.
The Elle Macpherson Aromatherapy Footspa indicates that it can be used up to size 12 feet and I'm sure this would be the case as there was plenty of room for my size sixes. I found I needed to sit upright on the chair and not relax back, as in this position the back of the unit pressed uncomfortably into my legs and it was more difficult to use the roller massagers.
The booklet suggests using the vibration massage first and then switch on the bubble massage.
I found that that the water cooled quickly and may well have stayed warmer if the bubble massage was used earlier. The cooling water detracted somewhat from the experience. The vibration massage was pleasant and I enjoyed the roller massagers for a penetrating massage but I found them uncomfortable under the feet if I was not using them. They can be removed, but they are fiddly to replace and the gap they left also felt uncomfortable. The bubble spa was very enjoyable and relaxing both alone and with the vibration massage. However it was quite noisy and the occasional over-energetic bubble would overshoot the unit, so the advice the leaflet gives to place the spa on a towel should be followed.
The aroma mister with either a white light or green light is fun but pointless if you do not place the essential oil in the mister unit. I found this fiddly to do, (perhaps an angled spout on the bottle would help) but when I succeeded the frangipani oil aroma was very relaxing and enhanced the experience.
The last feature is the coarse and smooth pumice stones either one of which can be slotted into a dock on the foot divider in the spa. The position of the dock sites the pumice stone in the middle of the spa, making it difficult to use on certain parts of the feet particularly the heels where I would most like to have used it.
The spa is easy to empty via a pouring spout
Whilst there are a few niggles, overall I enjoyed using this Elle Macpherson Aromatherapy Footspa, and my feet felt invigorated and refreshed .
PWT rating: ♥♥♥♥♥
Elle Macpherson The Body by Homedics Aromatherapy Footspa
is available from Amazon.