Many years ago I bought my daughter a VTech computer. It encouraged word recognition and there were number games in a series of levels. It was a great success and was later passed on to younger friends.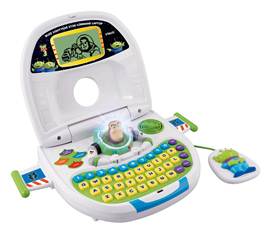 Since then, VTech computers for children have gone through a variety of transformations and in its latest incarnation the voice of Buzz Lightyear leads the play. With the authentic voice of Buzz and Toy Story sound effects the spaceship transforms into a laptop with a QWERTY keyboard and a curser style mouse.
Buzz Lightyear Star Command Laptop incudes 30 activities in four categories teaching letters, phonics, basic Spanish, maths, numbers, logic, games and more.
Although Buzz Lightyear Star Command Laptop is aimed at children aged four to seven years, I would think a lot of three year olds would be very happy playing with it while a lot of children aged seven would find the games a bit too elementary. Those in the middle of the age range would probably find the activities confidence-boosting as they would consolidate their skills as they explore the games independently.
The laptop comes ready to use with the three AA batteries it needs but it would be a good idea to stock up on more!
Highly recommended – and will keep small children away from the internet.
VTech Toy Story Star Command Laptop
is available from Amazon.