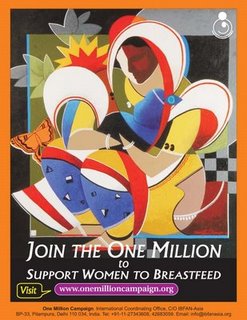 The campaign is unique in that it brings together people from all over the world to take action ranging from signing petitions demanding support to women to breastfeed on the website to individual actions such as pledging to support at least one woman for breastfeeding.
In India more than one in 18 babies die in the first year of life. The figure is 50 per cent higher in rural areas than urban areas.
Realising the urgency of the issue, Shri Mani Shankar Aiyar, the Minister for Panchayati Raj, offered to involve the Panchayat Raj Institutions in the entire process of motivating women and educating concerned stakeholders to facilitate women to adopt consistent breastfeeding practices. "Today when we talk about the importance of breastfeeding for infant survival, we are backed by solid scientific evidence to prove its necessity and efficacy," he stated.
Several factors affect women's ability to breastfeed successfully: traditions, myths, status in the family and society, work load, confidence in her body and sexuality, economic needs, labour laws, domestic and workplace violence and harassment, availability of support services, advertising by commercial baby food manufacturers, and so on.
To find out more and to sign up to the campaign go to www.onemillion campaign.org