Drowning is the third most common cause of death in the under 16 age group. Some 50 children drown in the UK every year

For obvious reasons, the number of accidents involving water always rises during hot weather and Roger Vincent of the Royal Society for the Prevention of Accidents (RoSPA) urges parents who live near open water to discourage children from playing there.

"There are so many dangers. Children overestimate their swimming capabilities," he warns.

"The water remains cold even during hot weather and there are the hazards of current, weeds and deep holes which can drag them down.

"Children should go to a properly supervised area where they have to wear life jackets."

Children should be taught to swim – currently 200,000 children leave primary school without the basic skills needed to survive in water.

Beside the sea
For
seaside holidays
to be fun for everyone,
parents
should:
Know where the life guard (if there is one) operates from.
Check tide tables. Some tides come in so quickly a child can be out of his depth, and further out from the shore than he can cope with.
Tell children to swim parallel to the shore, so that they won't get out of their depth.
Point out landmarks to swim between so they keep within your vision - and don't get lost on the beach.
Follow the flag system - see below.
Not allow inflatables in the sea unless there is a designated area which is supervised or you can oversee.
Remember sun protection - you can burn while in the water.
Not allow swimming for one hour after eating a meal.

Flag warning system
This is the
new flag system
which has been agreed throughout
the UK
- images curtesy of
RoSPA.
| | | |
| --- | --- | --- |
| | | |
| Red and yellow – lifeguards are on patrol and you should swim in the area between the flags. | Red – when this flag is flying it is dangerous to swim and you should not go into the water. | Black and white – this indicates that the area has been designated for use by surf and Malibu boards and it is not safe for swimmers and bathers. |
Swimming pools
Pools
in the
UK
are usually
supervised
and children should be
made aware
of all the
regulations
like no
running, ducking, dive-bombing
. Generally children have to be
over eight
years old before they are
allowed to swim
on their own.
Abroad
or in
hotel
swimming
pools
you should
check the depth
of the pool (this isn't always marked). You may also want to make sure that the pool is
properly maintained
.
Babies
lose body
heat
very quickly so the
water temperature
should be at least
29°C, 28°C
for
three-year-olds,
as recommended by the
Amateur Swimming Association.
The temperature
outside
should be a degree or so
warmer.
Paddling pools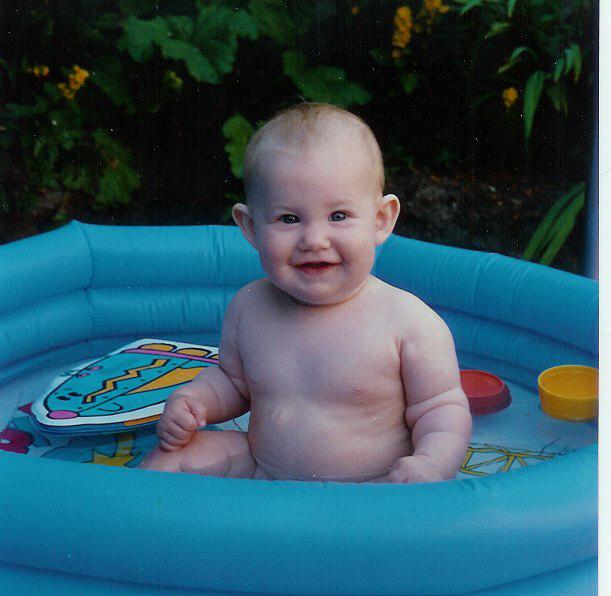 Children, especially the
under-fives
, should be
supervised
at all times. They can
drown
in a
few inches
of water.
Typically,
accidents
happen when a parent just
pops
into the
house
for a
towel
or to answer the
phone
or a
doorbell.
Never
leave
your child or children -
wrap
them in
towels
and take them
with you.
Pools
should always be
emptied
and
deflated
(or hung up somewhere out of reach)
overnight
in case children go into the garden on their own the
next morning.