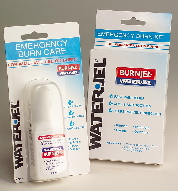 Results
of a recent study of
burn injuries
show that more than
half of ambulance call-outs
relating to burn injuries
involve children
less than 15 years of age and of these
70 per cent
are infants
younger than two
.
WaterJel Technologies,
manufacturers of a range of
emergency burn treatment gels
, dressings and bandages used by
hospitals and emergency services
around the world, offers this
advice
for the first aid
treatment
of burns in the
home:
If the burn is caused by contact with electrical current make sure you turn off the mains power first and then disconnect the local supply to the patient.

For chemical burns, wash off the chemical completely and remember to remove any items like watches or socks that might retain liquid chemicals. Brush off powder chemicals carefully and then remove any residue under running water.
Do not remove any clothing or foreign objects stuck to a burn injury but you can remove clothing around the area which may be retaining heat.
Handle the burn injury as little as possible and never burst a blister.

Do not put butter, grease, general first aid ointments or salves or dry dressings onto a burn injury. They will leave a residue that will have to be removed by the doctors which will be painful for the patient and could lead to scarring.
Seek medical advice and attention as soon as possible.
Application
Sterile
WaterJel dressings
ready-soaked
in Burn Jel can be used over
burnt clothing
or even over
hot fat
or oil as the Burn Jel will
soak through
to the burn and start the
process
of
cooling
, relieving the pain and
easing
the subsequent removal of clothing by medical personnel.
For more
minor burns
, apply a
generous layer
of Burn Jel to the
affected
area. Do
not rub
in.
Leave
on for at least
30 minutes
and
reapply
as often as
necessary
.
Availability
The WaterJel Burn Jel range
includes Burn Jel
pain relieving gel
– a fast-acting, pain-relieving gel treatment that
cools and soothes
burns – and the WaterJel Burn Jel
Emergency Burn Kit
– including three individual Burn Jel sachets, an impregnated dressing and a bandage.
Available
from the Lloyd's Pharmacy chain and from independent pharmacies.
60ml pump dispenser
retails at
£4.99
WaterJel Burn Jel
Emergency Burn Kit
retails at
£5.99
A
leaflet
and a small
sample
of Burn Jel are
available
by emailing childburns@waterjel.net