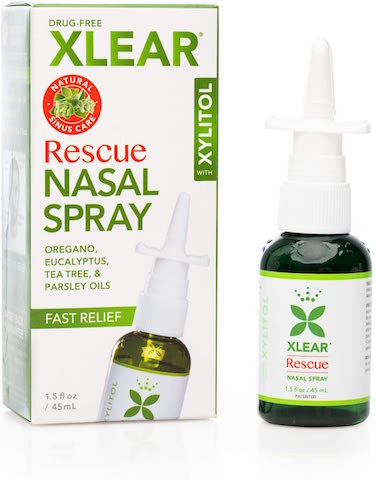 If you suddenly have sneezing fits at any time of the year, or suffer from hay fever or allergies you might like to try Xlear Nasal Spray.
Many sufferers opt for antihistamines – over the counter medicines that treat symptoms such as sneezing, red and itchy eyes, sore throat, and others. However, the side effects can make day to day life challenging. Drowsiness, dry mouth and blurred vision are just a few.
Xlear Nasal Spray is a good alternative that can be used regularly without the risk of rebound congestion and aids in restoring the natural mucus production of the nose. The active ingredient is Xylitol – which when transported by saline, helps to moisturise the nasal passages, by washing the nose of debris and allergens, as well as tackling the bacterial colonies that may be causing inflammation.
The nose is one of the main places where allergens enter your body and cause problems. It filters the air you breathe but as with any filter, you need to regularly clean it. Using Xlear Sinus Care Saline Nasal Spray daily will make sure your airway is healthy and free of allergens.
Why Xlear Nasal Spray?
Provides relief in as little as ten minutes

Natural – contains the natural active ingredient xylitol

Can be used daily unlike OTC nasal decongestants

No side effects like drowsiness

Suitable for children
If your allergies are worse than normal, you can try Xlear Max £20.48/45ml. Unlike the original xylitol nasal spray, Xlear Max Nasal Spray also includes capsicum annum 8x and aloe vera, two natural remedies perfect for allergy season specifically. The addition of capsicum and aloe vera to the Xlear formula gives more immediate relief from congestion and allergy symptoms. During peak allergy season, this particular spray might be preferable over the original, especially if you can't find relief when you need it.
I had great results from using Xlear. The directions say two to four squirts in each nostril. I would definitely begin with two, as four seemed to flood the area. And keep your head tilted back.
Xlear Sinus Care Saline Nasal Spray £11.99/45ml, available from independent health stores and from Amazon:
Xlear Sinus Care Saline Nasal Spray with Xylitol, 45ml (1.5oz)