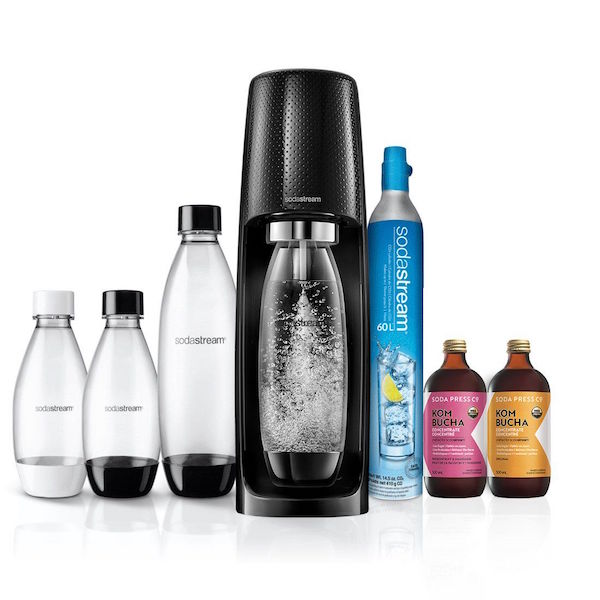 The summer holidays have arrived and most of us are staying at home much more this year. One way to put a sparkle into the day is to offer children (and adults) a sparkly drink with the aid of SodaStream.
At the push of a button, kids can become the house's resident mocktail mixologist for the summer, making refreshing sparkling water on tap and adding freshly squeezed juices or adding the soda water to a smoothy to make a longer, thirst-quenching drink. What's more, with SodaStream's selection of flavours including Orange and Blueberry & Lime, they can create tasty, healthier alternatives to traditional, sugar-loaded fizzy favourites which can have a detrimental effect on teeth and health.
Not to mention, SodaStream is great for the environment too. Each machine saves the use of thousands of single-use plastic water bottles from the planet, and one gas canister makes up to 60 litres of sparkling water, so you can teach your kids to look after the world around them at the same time.
SodaStream helps you stay hydrated by having refreshing, sparkling water available at the touch of a button. Simply add ice and a slice for a refreshingly simple drink, or explore the range of delicious syrups and flavours.
I've been trying out out the SodaStream Spirit which, in black, looks very sophisticated in the kitchen. I drink plenty of water anyway and, of course, with the machine at hand, soda is always available to add to wine for a summertime spritzer and soda is used in lots of cocktails.
PWT rating:♥♥♥♥♥
The sparkling water makers can be delivered straight to your door from SodaStream.co.uk and come in a range of bright and fun colours that the kids will love! The SodaStream Spirit starter pack is currently available from sodastream.co.uk for £69.99 in black, white, red, blue, green, grey and for a limited time only, a white and gold colourway. The Hydration pack (pictured above) is £79.99. Replacement gas cylinders can also be bought at supermarkets.