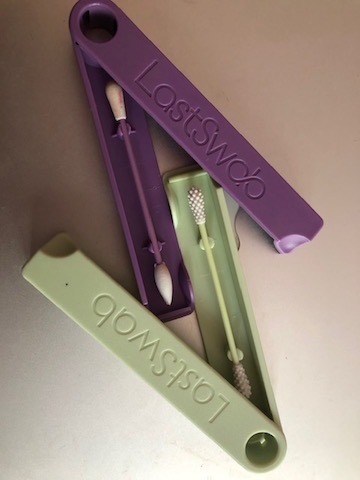 Recently we reviewed LastTissue perfect for those of us who prefer to use a cotton handkerchief.
Now we have tried out LastSwab which is ideal for everyone trying to reduce their use of plastics and cotton swabs which end up in our oceans harming wildlife.
LastSwab provides an eco friendly alternative to the many uses of single use q tips without the large environmental footprint. This reusable q tip comes in two different models for different applications. One for general q tip uses and one for beauty oriented ones. They are both made from durable yet flexible, high quality, and non-toxic materials which are gentle on the skin and easy to clean.
Both LastSwab versions come with a convenient and corn-based carrying case that keeps your reusable q tip stored away safely.
LastSwab is made to last and replaces up to 1000 single-use cotton swabs. The reusable swabs can be cleaned by hand using soap and water.
I took these away on holiday with me and found them really easy to use and keep clean. You should not use acetone on the beauty swab, nor should it be used in your ears or on children and infants. The general use swab should not be pushed into the ear.
These LastSwabs are easy to use and keep clean plus buying these means you are doing something to help our planet.
PWT rating: ♥♥♥♥♥
Both LastSwabs cost £10 and are available from LastObject.