The seat harness packs into a zip-bag which is approximately 14x14cm and fits easily into your handbag or changing bag. Once unpacked, the fabric harness simply hooks over the back of most chairs and tightens to a snug fit. The harness then goes between your child's legs and back around their waist, fastening behind the chair back.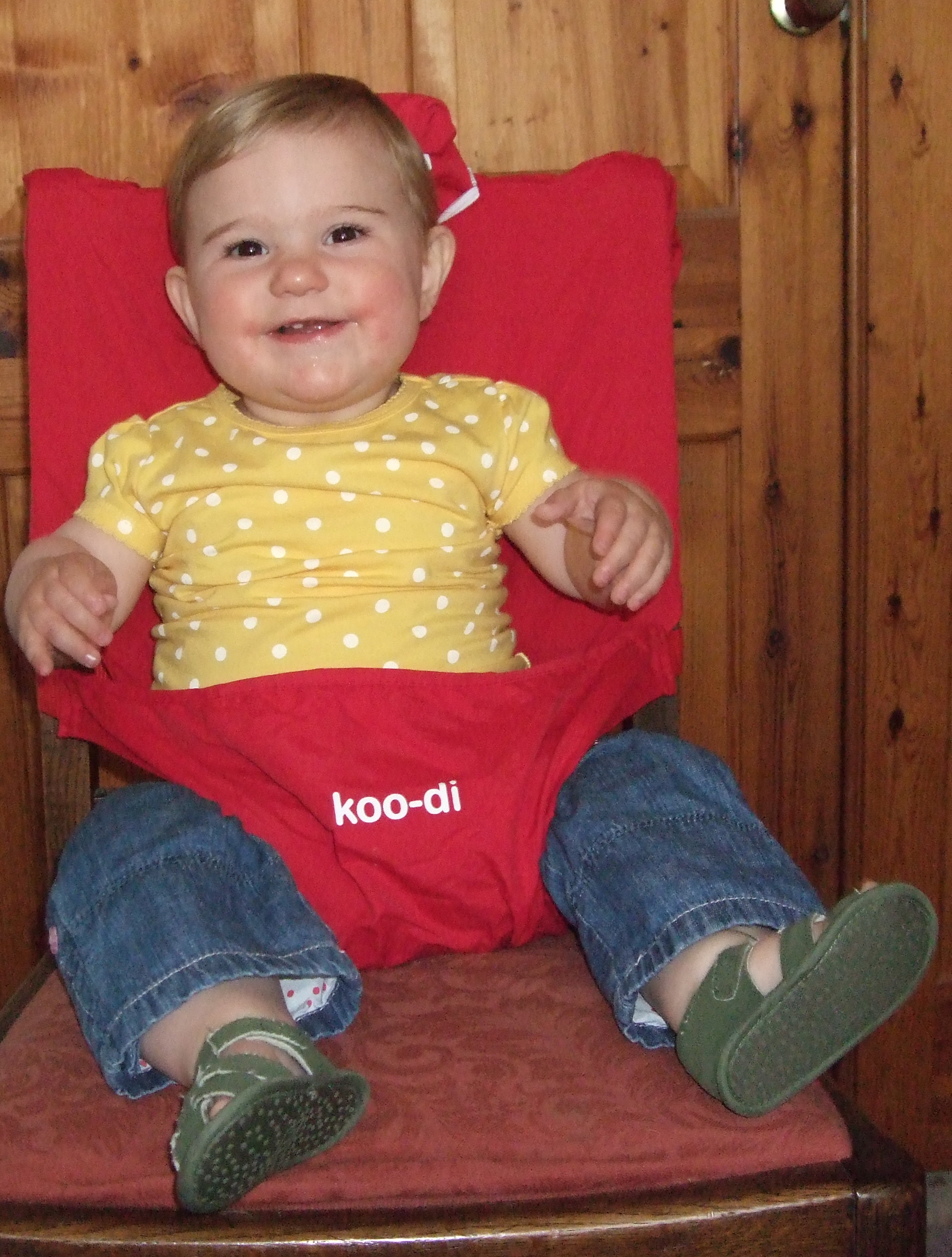 I used my Koo-di recently on a weekend visit to Oxford. We were staying at my brother-in-law's house and, as he doesn't have children, we ran the risk of having to take everything with us for our 11 month old daughter, Eva.

The Koo-di harness was put to use immediately when we arrived at dinner time. The best chair we could identify for the purpose was actually an office chair; but the harness fitted easily and once Eva was in she seemed pretty secure. Supper went down with no trouble and Eva loved her spinning high chair!

The next day we took the Koo-di out and about with us. On finding a pub for lunch we were surprised to be told that we could not use one of their highchairs at our table outside and, as the sun was shining, we were reluctant to move inside. So out came the Koo-di, fitting easily over the garden chair, and once again a meal was eaten without a hitch.

There are only two limitations which we have come across. Firstly, the Koo-di only fits to chairs with a relatively low back. When we first tried it on one of our own high-backed dining chairs, there was not enough fabric length left to pass between Eva's legs and fasten at the back. Secondly, there is no "booster" feature in the design, which leaves the child in a low seating position.
However, this weakness can also be seen as a strength – if there were an integrated booster, the harness would not pack as small as it does and would not be so convenient to carry around. We found a cushion did the job just as well.

So, in summary, our verdict is a big thumbs up.
The Koo-di seat harness is available at Amazon. To order one click the link below:
Pack-it Seat Harness in Red