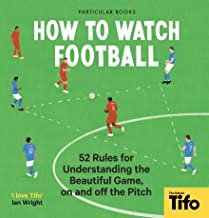 Published by Penguin Random House, How To Watch Football by Tifo – Fifty-two rules for understanding the beautiful game, on and off pitch, makes a perfect stocking filler for those who love the game and want to understand and appreciate it more.
Recommended by Ian Wright, Elis James and Alan Shearer, Tifo by The Athletic, an intelligent YouTube channel that has changed the way people talk about and watch football, has produced this primer to the world's favourite sport.
From "don't watch the ball" and how to spot sportswashing and why corners are less effective than you think to how transfer fees can be misleading, this perfect companion to the game is a veritable mini-encyclopedia full of fascinating facts, tactics and potted biographies, history, finance, club ownership and so much more.
This illustrated guide is a book to dip into to impress your friends with your knowledge and to learn how to appreciate the game even more.
Available online and in bookshops.
PWT rating: ♥♥♥♥♥