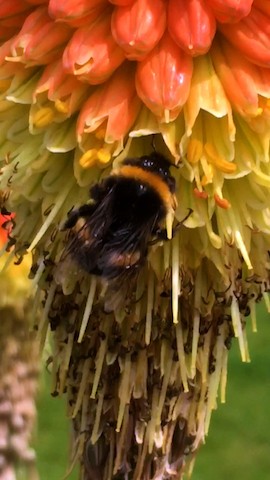 TV presenters Michaela Strachan and Ellie Harrison are urging people to take part in Friends of the Earth's Great British Bee Count, which runs until 30 June, 2017.
The Great British Bee Count, is a rewarding activity for children to discover more about the fascinating world of Britain's bees.
With a fun, FREE and informative app, the Great British Bee Count – which was featured on last year's BBC Springwatch – is ideal for all the family. The Great British Bee Count encourages people to:
• identify and record the common bee species that visit our gardens, parks and countryside
• learn more about the amazing diversity of Britain's bees – there are over 250 bee species in the UK
• take steps to help these under-threat pollinators – for example, by creating bee-friendly gardens and other spaces
Over fifteen thousand people took part in last year's Bee Count, which is organised by Friends of the Earth with support from Buglife and sponsored from Waitrose.
People can take part by downloading the free Great British Bee Count app, which enables them to submit details of the bees they spot – and photographs too if they manage to catch them quickly enough!
There is also a GPS function on the app, which records the location of the bees spotted and posts them onto a map.
Young children can also join in with a Bee Bingo activity sheet.
Friends of the Earth has a number of top tips for creating bee-friendly spaces.
35 UK bees species are considered under threat of extinction – and across Europe nearly one in ten wild bee species faces extinction.