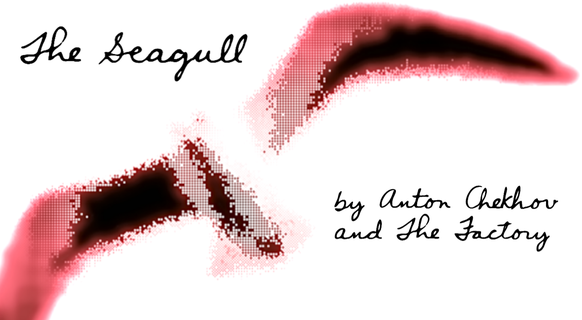 "The Factory
tell their version of
Chekhov's
The Seagull
in the words that arrive in their heads at each moment,
relating
the dialogue to what they are
being thrown
by each other and the
environment
they find themselves in."
Last Sunday we went to see
The Seagull
at the Pleasance Theatre in Islington (this week it's at The Nave in N1) and this is part of the fun of
The Factory
productions – they take place in
different venues
around London with a
different cast
and no two
performances
are ever the same!
Improvisation
is key to the productions so you really do take pot luck. We found some of the
actors
excellent and others less so!
However it really is
worth going
to see a production especially if you have
teenagers
who are
studying drama
or just love the theatre.
As
The Factory
brings nothing with them, including sets,
costume
or props, you may be asked to
lend
some of your
personal possessions
for use in the show.
Alongside
what you may already have about your person the
company
will be looking for; a romantic novel, a literary magazine, fishing gear, an addictive substance, breakfast, a game for six people, and a seagull.
Tickets are £10
and the next production of
The Seagull
is on Sunday 17 January at 5pm.
Bookings