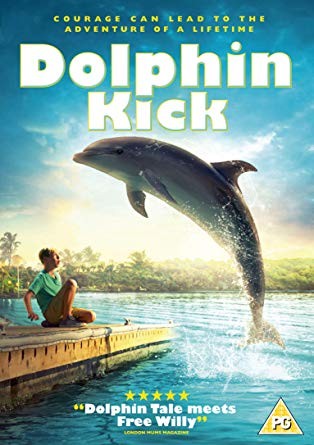 Newly released for Lionsgate Home Entertainment on DVD and Digital Download, Dolphin Kick is a lovely family film with a high feel good factor.
Some months after the sudden loss of their mother Skyler and Luke, go with their grieving father to the tropical island where the parents had spent their honeymoon. Both children had been ace swimmers but since his mother's death, Luke has been unable to go into the water while his sister carries on winning races. The tropical island at first seems like paradise but the fishermen are furious as someone is cutting the ropes to their nets...
Meanwhile Luke befriends and is befriended by a young dolphin he names Echo. They develop a playful relationship but Echo is lost too and need to be able to rejoin a pd, according to the conservation students they meet. As Echo entices Luke back into the water with his fun and games, danger is looming ...
Dolphin Kick is an adventure film with some scary moments with lessons about friendship, family and environmental conservation, dealing with grief and loss. It is fairly predictable but what lifts it is the amazing dolphin footage which will make your heart leap for joy.
Rating PG and runs for an hour and a half.
PWT rating: ♥♥♥♥♥
Dolphin Kick [DVD] [2019]
is available on DVD from Amazon and on Digital Download.