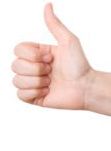 When you are
buying food
for a
party
– in this case Harriet's second birthday – you need to be able to rely on the
quality of the produce
.
We bought four large
punnets of strawberries
which were well within their
sell by date
only to discover when we went to use them for the
party
most of them had gone
mouldy
.
I phoned the
manager
of the
Co-op
where we'd bought them and when he heard that we were half an hour away from
party time
offered to have
fresh strawberries
delivered to us. They were a little late but they did arrive.
What a star!
Thank you
!
If you have received some
really good
– or disappointing –
customer service
let us know
.