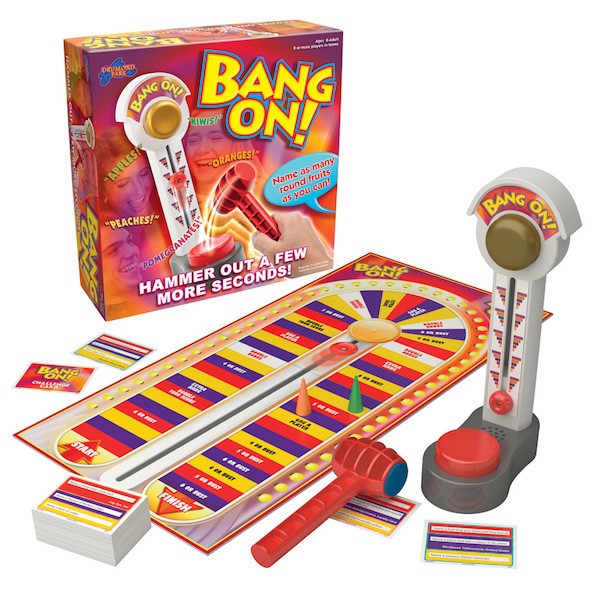 Win a new brain teaser game from Drumond Park The pressure ramps up and the excitement levels rise to fever pitch! Just imagine… you're only split seconds away from gaining that crucial extra time! If you're looking for a board game that the whole family will enjoy playing together, whatever their ages… look no further than Drumond Park's brand new high energy Bang On! board game (rrp £27.99 age 8 to adult – for two or more players in teams).
It revolves around an electronically controlled "Bang On" unit and a hammer – and sees teams compete to name as many items from their card as possible, in multiple highly-charged, tension-inducing bursts before the red timer knob comes plunging down!
Think "name round fruits" and "Queens of England" and you'll see there are plenty of opportunities for absolutely everyone to get involved, right from the off!
The premise of this quick-fire game is simple. One team member is picked to be the Banger for that turn, and holds the hammer. The other team takes a card and calls out the topic. The Banger hits the big red button to start the game. Then it's an excruciatingly exciting free-for-all for the competing team – as every correct answer shouted out by any team member wins another bang with the hammer, sending the timer knob whizzing back up to the top again, so gaining enough time for someone to shout out another answer…
This all goes on at break neck speed – until either the time runs out or the team reaches the maximum score (per round) of ten answers. The team then moves its playing piece along the board by the number of answers scored – dealing with various cunning mishaps and challenges along the way… such as Challenge Cards, Extra Bang, Bust Spaces, Gag a Player etc. And of course the first team to land on or pass the Finish space wins the game.
Bang On! is a true icebreaker that's guaranteed to get everyone going - and is absolutely perfect for multi-generational fun!
To be in with a chance of winning one of five games, just answer this simple question:
How many teams are needed to play Bang On!?
Please write Bang On! in the subject line of your email and include all your contact details. Only one entry per household.
This competition is now closed.
Winners will be the the senders of the first five correct emails opened at random after 12pm on Monday 2 October, 2017.
Note: Game requires three AAA batteries
For more information and stockists visit Drumond Park website and catch up on all the news on their crazy blog.