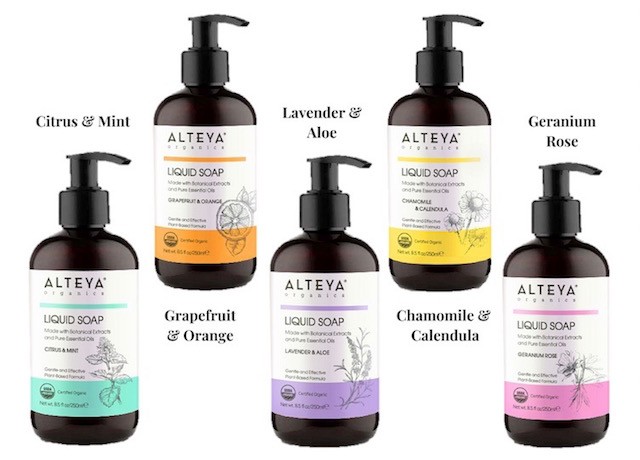 Alteya Organics Liquid Soap Range is certified organic and made with botanical extracts and pure essential oils. The soaps are plant based and gentle but effective. The mild formula gently cleanses skin without over-drying.
Formulated with and organic bled or moisturising and skin-conditioning ingredients and aromatic essential oils, these soaps maintain the natural moisture of the skin. They are suitable for all skin types and come in five formulations .
For a tried and tested I was sent Chamomile & Calendula and Grapefruit & Orange. These two are perfect for me as the first contains essential oils for rest and relaxation so perfect for the evening and the second citrus combination is one I love to wake me up in the morning.
Another plus factor is that this range can be used as hand and/or body wash. Cleanse as normal and rinse thoroughly. Even for a shower you only have to use a small amount so the products are cost effective as well.
When I'm using them to wash my hands I inhale the aroma that's released before rinsing. My skin feels soft and nourished.
PWT rating: ♥♥♥♥♥
Alteya Organics Liquid Soap Range comes in two sizes: £7.65/250ml, £12.70/500ml and is available from Amazon:
Alteya Organic Liquid Soap Grapefruit & Orange 250 ml - USDA Certified Organic Pure Natural Soap and Body Wash