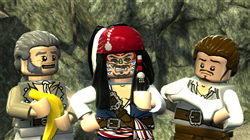 The boys (aged ten and 11) loved
LEGO Pirates of the Caribbean
– they
played
solidly for nearly two hours without it sending them hyper! Both
remarked
on the excellent quality of the
graphics
and
animations
. What they
really liked
was that they could hang around on
different levels
enjoying themselves in a
companionable
fashion.
I noticed that they were able to really
play together
on this without falling out – there was a lot of
laughter.
Though it was obviously
themed
around the
films
you didn't need to have a deep
knowledge
of them; the boys just plunged straight in.
Matt
thought it was the
best game
he had ever
played
and I would agree from a
dad's point of view
as it seemed to deliver a
satisfaction
that was more
healthy
than usual. Somehow it seemed to be
more integrated
as play than the usual bells and whistles. I know that he will ask for
LEGO Pirates of the Caribbean
as a present and I'll
gladly give
it to him.
PWT rating
: ♥♥♥♥♥
Available
from Amazon:
Lego Pirates of the Caribbean (Xbox 360)
Lego Pirates of the Caribbean (Wii)
Lego Pirates of the Caribbean (PS3)
Lego Pirates of the Caribbean (Nintendo DS)
Lego Pirates of the Caribbean (PSP)