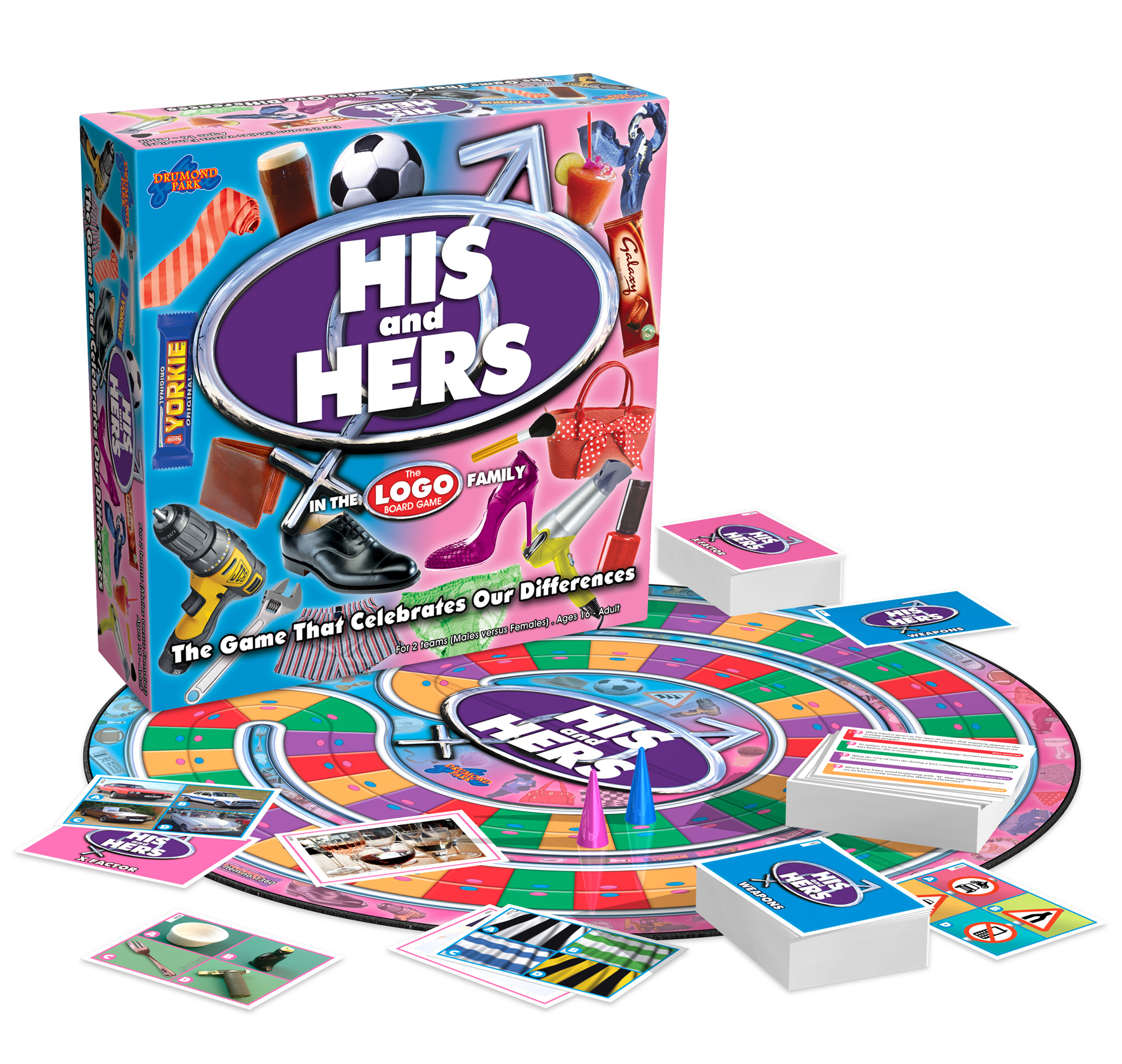 The brand new
HIS & HERS adult board game
(rrp £32.99, age 16+) follows the same hugely successful
picture recognition
and knowledge formula as
Drumond Park's
Number One best-selling
LOGO gam
e. It's a fun, eye-opening opportunity for
individual couples
or
teams of both sexes
to find out more about how the
opposite sex
ticks - using everyday
lifestyle icons
and well-known brands.
This time the
female players f
ind themselves answering questions about what the
men might know
... and then it's up to the
men
to turn their minds to the things which
women take in their stride
.
This
enlightening game
playfully highlights the endless
differences between the sexes,
from the
blindingly obvious
to the more delicate,
intuitive nuances
intrinsic to each. It's all good,
light-hearted fun
with absolutely nothing antagonistic about the game play – but it does result, of course, in an endless stream of
misguided answers
and
hilarious deliberation
!
Here are just a few
sample questions
to whet your appetite!
Men are notorious for leaving the toilet seat up - in the bathroom, what do they also continually leave off? (top of the toothpaste)
What do the letters D, P and N stand for on automatic gearbox? (Drive, Park and Neutral)
How many people out of 10 have married their first love? (four)
What is the food most craved by pregnant women? (ice-cream)
Which school did David Cameron, Bear Grylls and Hugh Laurie all attend? (Eton)
How many points would you score if you landed a dart within the wire at the lowest position on a dartboard? (6 or double 3)
To be in with a
chance of winning
one of the three
HIS & HERS games
just answer this question:
What is the name of Drumond Park's Number One best-selling game?
Enter here
Winners
will be the senders of the first
three correct emails
opened at random after 4pm on
Tuesday 29 November
, 2011. Only
one entry
per household.
For stockists visit
www.drumondpark.com
or call 01506 855577