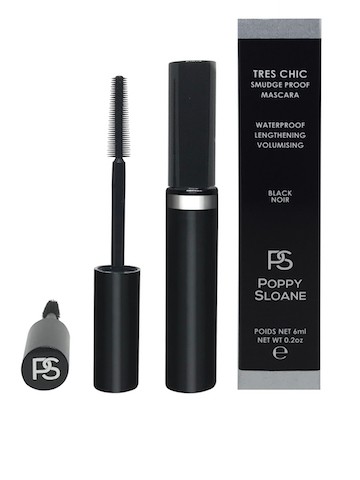 Poppy Sloane - PS well behaved make up - has relaunched its Tres Chic Mascara with a new vegan formulation that gives eyelashes volume and thickness. Unlike traditional mascara that coats the eyelashes, Tres Chic is a tubing mascara so "wraps" the product around each lash creating a waterproof tube.
However, even though it is waterproof, Tres Chic only needs a slight pressure between two fingers to break the bonds and the mascara can be removed with warm water and a face cloth leaving no smears, smudges or panda eyes.
Originally launched in 2015, founder Jacky Vincent had searched for a mascara that she could apply and not think about for the rest of the day. The original mascara contained a small amount of ethically sourced bees wax and although cruelty free was not vegan friendly.
Jacky continued to research the ingredients within the mascara and her new UK produced mascara has no beeswax and bamboo has been added to ensure that the mascara is as voluminous as possible. Bamboo also has the added bonus of having anti-microbial properties therefore reducing risks of eye infections.
The plug in the bottle is smaller to allow exactly the right amount of product on the mascara brush. Jacky was determined that Tres Chic stays true to its value of "Well Behaved Make up".
I found this mascara easy to apply. You can add coats but you need to do so immediately before the mascara dries. The result is well defined lashes with no smudging.
Easy to remove with warm water as above.
PWT rating: ♥♥♥♥♥
Tres Chic retails at £15 and is available from Poppy Sloane.