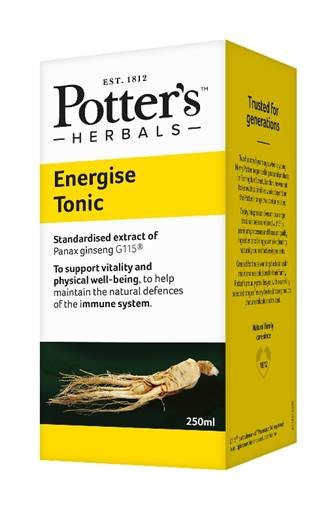 No matter what your job, family situation or schedule, tiredness seems to go with the territory. One in five people experiences unusual tiredness at any time and unexplained fatigue is now one of the most common reasons for people to visit their GP, accounting for three out of every 50 consultations.
Apart from making sure we eat well, get enough sleep and exercise, what else can we do? Supplements sometimes receive a bad press but Potter's Herbals have been trusted for generations.
Potter's Herbals energise range can help combat fatigue. Potter's Herbals Energise Tonic and Potter's Herbals Energise Capsules are the result of more than 40 years of clinical research and are backed by more than 30 clinical trials and support vitality and physical wellbeing, as well as help maintain the natural defences of the immune system.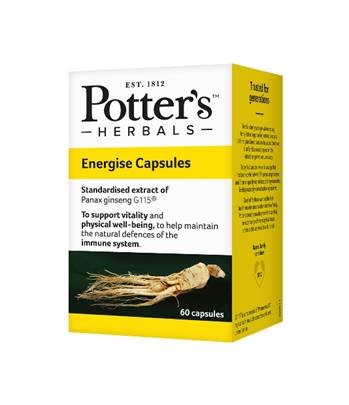 The range contains a specific type of ginseng; Panax Ginseng G115®extract, a ginseng that has been a remedy used in China for at least 2,000 years. It is the world's most thoroughly researched form of ginseng and is scientifically proven to support energy metabolism, vitality and physical performance, as well as combatting daily fatigue, and tiredness.
Dr Chris Etheridge, medical herbalist, plant expert and biochemist says: "The benefits of this Panax ginseng C.A, Meyer G115® extract extends far beyond these widely recognised anti-fatigue effects. It has also been shown to support cognitive and immune function, and has anti-inflammatory, anti-diabetic, anti-obesity and neuro-protective effects.
"The long history of traditional use of this species of ginseng provides compelling evidence of its efficacy, and the huge body of data around the G115® extract provides tantalising clues to its identifiable and measurable benefits and modes of action."
Like many people in the winter months, I found my energy levels dropping and started taking Potter's Energise. It says to take the supplement for four weeks but I was advised that three months would be more beneficial.
It is very difficult to measure effectiveness of what other than to say "i had more energy" or "it didn't seem to make any difference to me". At first I felt little effect and this was compounded by the fact that I got the severe winter cold that was doing the rounds. However as the new year came in I did begin to feel much better and less tired.
I have tired both the tonic (great for people who don't like swallowing pills) and the capsules which are much easier to take with you if you are away from home and are more cost effective. Both are taken with your breakfast and you should consult your GP or pharmacist before taking any herbal preparation if you are pregnant or breastfeeding or have a condition for which you are taking medication.
I went to the press launch of the Energise Tonic/capsules, Actimind™ and Memory & Focus™ and the research and trial evidence was compelling.
Highly recommended.
Potter Energise Tonic (£19.99/250ml) Potter's Energise Capsules - (£19.99/60capsules) and the rest of the range are available from health food retailers www.herbal-direct.com.