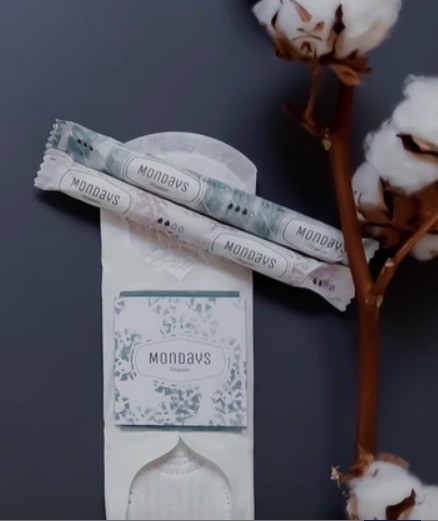 My mother had no idea what was happening to her the first time she noticed blood in her pants. Fortunately most of us have moved on from those unenlightened days. My mother had everything ready for my first period as I did for my daughter.
However another current consideration is the fight against plastic pollution and this is where Mondays triumphs. They are the newest and only completely plastic-free, organic cotton period subscription service. Delivered straight to your door in teal packaging made from moulded paper pulp from renewable forests. Mondays has even removed the plastic tear strip from its delivery boxes and made sure the usual plastic backing found on menstrual pads is replaced with compostable Mater-Bi® backing.
The "menarche" pack for young girls contains pads, panty liners, tampons (to see if they might be a choice) and a discreet organic cotton bag to pop into a school bag. I'd add an extra pair of pants as you never know when they might be needed.
Four-minute Mondays
With a one-time registration at the click of a button, shopping for period products that are good for you and the planet has never been this easy.
Completely customisable
Each Mondays' Box is completely customisable, allowing you to pick the right mix of period products for your unique cycle. Choose from three organic cotton, plastic-free products: menstrual pads (in two absorbencies), applicator tampons (in two absorbencies) and panty liners.
Your monthly box is made up of your own unique combination of 25 products, chosen by you to match your flow, and is set to be delivered on a personalised subscription cycle. Have a 21-day cycle? No problem. Or maybe it's 36-days? Mondays will match you and send out your boxes to suit, meaning you're never caught short again.
The right kind of convenience
Nancy Saddington, Mondays' co-founder, comments, "Too often our love for convenience – as with single-use plastics - damages the planet and our own health. With Mondays we wanted to create the right kind of convenience that actually supports women and the natural world.
"At Mondays we put our money where our mouth is. We're part of the 'One Percent for the Planet' movement set up by the founders of Patagonia and Blue Ribbon Flies, meaning that 1% of all our sales from day one are donated to environmental non-profit organisations."
Pause and opt-out whenever you want
Subscribers to Mondays' service can pause or opt-out at any time, without being tied into sign-up contracts. Delivery is free across Europe and beyond, and each 25-product box costs £13.50.
PWT rating: ♥♥♥♥♥
Discount code: MENARCHE for 20 per cent off your first three boxes.
For further information or to sign up go to: www.organicmondays.co.uk.