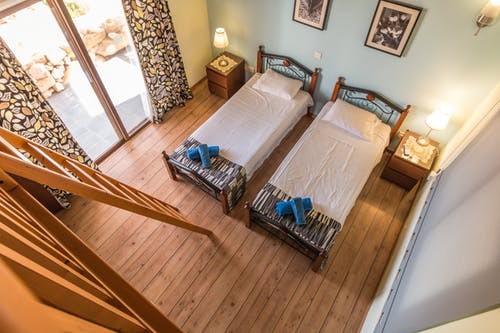 Some children love the idea of a shared bedroom, as it means that they will be able to have a sleepover every night with their favourite person. A shared bedroom will also encourage siblings to bond quickly and learn to share from an early age, as they will be so used to compromise and sharing from such an early age.
I work for Happy Beds and here are my top tips for parents to create a perfect shared bedroom for their children:
1. Invest in Bunk Beds
Bunk beds are really convenient for shared bedrooms. It will allow parents to give their children more floor space for activities and encourage children to play in their bedroom rather than creating a messy environment in the living room or kitchen. One of the only problems with bunk beds is that they are often restricted for two people, which of course isn't great if there are three children in one room.
Happy Beds sell a range of triple bunk sleepers which allows three people to share a bunk bed. These are also great if one of the children is older and requires more space to stretch out.
2. Let Both Children Add Their Own Stamp
There is no point painting the whole room pink if one child hates that colour. Both children should be able to have a choice on how their bedroom to look and be able to add their own stamp to it. This would ensure that a little bit of each personality shows in the bedroom.
One great idea would be to let each child pick a wall to decorate in their own way. This can be a colour each or they can choose their own posters and photos to go up.
3. Give Children Their Own Desk
Giving each child their own desk or workspace in a bedroom will allow each of them to have their own space, which is very much needed at times. This will also teach the children responsibility, as they would be in charge of keeping their own desks clean and tidy. If the bedroom isn't big enough for a desk each, perhaps a small table would be good, as it can be divided in half.
4. Plenty of Storage
Two children in one room means double the storage needed. It is important that both children have an equal amount of space to put their things so that their bedroom is kept clean.
I worked with some parenting bloggers a few years ago, and they kindly discussed some storage hacks to maximise space in a kid's bedroom. Shelves are always a great option as they take up wall space rather than floor space.
5. Make Sure You Set Rules
You need to set some rules right from the beginning of the bedroom moving in process to ensure that arguments are avoided, and best behaviour is always on.
Basic rules such as not entering each other's beds, not touching each other's things and giving their sibling space when it is needed are vital to a happy environment.