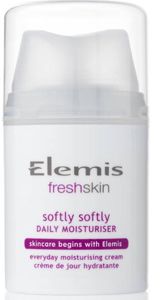 Softly Softly Daily Moisturiser
I am prone to
eczema
and many face creams
irritate
my
skin,
leaving it
itchy
and sore. The
Elemis Softly Softly Daily Moisturiser
is a gentle, light cream that left my skin feeling
soft and hydrated,
without that greasy feeling that many face creams leave. The r
osehip seed oil
and sweet almond oil create a
soothing and softening
quality providing the skin with a
hydrating boost
and a healthy glow.
Using only
natural ingredients,
Elemis Softly Softly Daily Moisturiser encourages
skin renewal
and suits the needs of
all skin types
, including young skin (apparently those of us with
young skin
should be attempting to prevent the
signs of aging
already!). After using the
Elemis face cream
for a few weeks my skin looked
radiant and healthy
, and I would thoroughly
recommend
it.

Deep Clean Purifying Face Mask / Magical Moisture Quenching Face Mask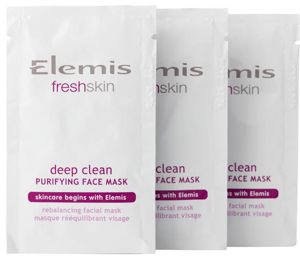 I love
clay face masks
and I certainly wasn't disappointed by this one. The
Elemis Deep Clean Purifying Face Mask
is a blend of frankincense oil and goji berry extract, helping to
draw out
the
skin's impurities,
refine and hydrate. The Vitamin E also helps to soothe and
soften
the skin. The clay mask
smoothes
onto the skin with ease, and the
pleasant aroma
relaxes instantly.
After applying the
face mask
I would recommend sitting down for
ten minutes
(the suggested time) rather then getting on with
household chores
– and forgetting you've got it on!
Second attempt
was much more successful and the
mask c
ame off with ease, using
warm water
. The skin is left
supple
, soft and fresh feeling, with a
healthy glow.
Following the mask with the
Elemis Softly Softly Moisturiser
is a must too.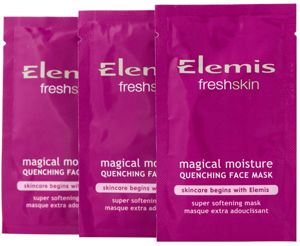 The
Elemis Magical Moisture Quenching Face Mask
is a just as delightful experience. During the recent
temperamental weather
, my skin has been very
dry and rough
. This mask
re-hydrated
and quenched my under-nourished skin: the result producing
exceptional softness
and radiancy. The white lupin, arctic cranberry seed oil and apple extract
enhance
the nourishing
moisture boost
and left my
skin
feeling
great.
PWT Rating
: ♥ ♥ ♥ ♥ ♥