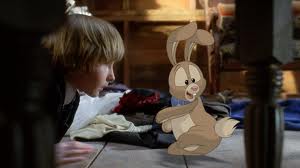 I first encountered
The Velveteen Rabbit
as an adult and even then it brought a
tear to my eye
with what has become the the
iconic quote
from the Skin Horse:
"Real isn't how you are made... It's a thing that happens to you. When a child Loves you for a long, long time, not just to play with, but REALLY loves you, then you become Real."
This film from
Signature Entertainment
creates a whole story around the rabbit's adventures with a lonely little boy called Toby sent by his distant father to spend the festive season with his grumpy grandmother. Predictably, Grandmother softens to become Nana after Toby learns from the toys in the magical attic that his relative also played there as did his father.
For the
scenes
in which the toys come alive the
film
transforms into
animation
and there are some enchanting
adventures
. There are also scenes which many will relate to: Toby unable to
throw a ball
properly,
losing a favourite toy,
decorating a
Christmas tree
and thinking a
visit to Santa
will make everything right again. Staid
Grandmother
practices her driving skills and takes a
new approach
to life – summoning her son home. Then
illness strikes
when Toby is in the
magical world
– will he ever be able to
return
?
This is a very
gentle film
that explores
relationships
and growing up and the
wonder of childhood
.
Perfect family viewing.
The Velveteen Rabbit
is directed by
Michael Landon Jr
; Toby is played by
Matthew Harbour
with
Una Kay
as his Grandmother and
Kevin Jubinville
his father.
Ellen Burstyn, Tom Skerrit
and
Chandler Wakefield
provide the voices for Swan, Horse and Rabbit while
Jane Seymour
is the voice of Mom.
PWT rating
: ♥ ♥ ♥ ♥ ♥
Velveteen Rabbit [DVD] [2007] [Region 1] [US Import] [NTSC]
is available from Amazon.