When our son was a few weeks old and in his colicky phase, and we spent hours pacing the room with him, I wondered (aloud and often) why nobody had noticed the gap in the market and invented a product to rock and soothe a baby as a parent might.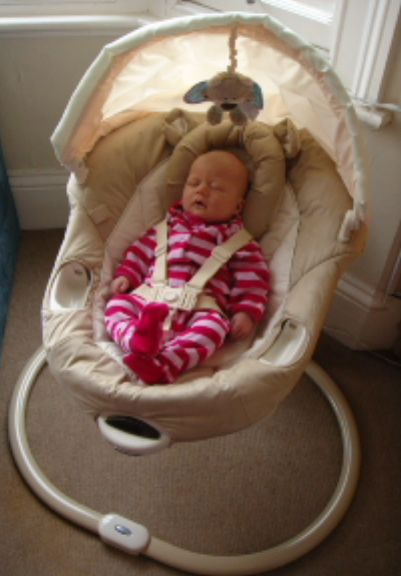 So when our new baby, Georgina, was born four weeks ago, I was keen to try out the Graco Sweetpeace. It could never be a substitute for a real pair of arms, but I have found that for those times when I can't hold Georgina - inevitable when you have two other children - it is a decent stand-in.

The Sweetpeace rocks your baby with a motion that is designed to imitate arm-rocking. You can wrap your baby up in the scent-absorbent swaddle-blanket, the idea behind which being that the mother sleeps with the blanket so that it smells of her. There is also a range of soothing background music and sounds to choose from, including - my favourite - a heartbeat rhythm.

The Sweetpeace has further features that we haven't yet tried, including an MP3 connection (for your own player) and a detachable tray with adjustable mirror for older babies.

The pale, neutral colours mean that, despite its size (it takes up a fair amount of space in our small living-room), it isn't too intrusive. They also mean that I line the seat with a muslin. The soft, suede–touch covers are washable, but new babies can make an awful mess!

A big advantage for me, with a toddler who likes to race around the room, is that the seat is elevated, raising Georgina out of harm's way. Another useful feature is the child-lock button which prevents her siblings from changing the settings. The base is sturdy so I am confident that it won't be knocked over, but the seat itself is easily detachable so that I can carry it with me as I move from room to room.

Most importantly of all, while I wouldn't go so far as to say that Georgina likes the Sweetpeace (she is only really content when being held or lain beside), she will tolerate it. When wrapped up snugly and being rocked on the slow setting she will sometimes even sleep in it, something we have yet to achieve with her cot or moses basket!

At £169.99, the Sweetpeace is not cheap. However, you might consider this money well spent if it works for your baby and makes your life easier in her first few months.
Sweetpeace is suitable for babies up to 11kg. For stockists telephone 0844 412 1212 or visit www.graco.co.uk