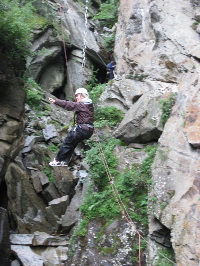 However prepared I tried to make myself for the alpine gorge experience, I still don't think I could have realised what it would actually be like! Putting on the harness and helmet got my heart racing, and the ten minute walk downhill to the start point did not help.
I was very shaky as I climbed the first wall and attached myself to the zip-wire and, after many screams and avoiding looking down, I managed to make it to the other side. This was a great time to realise that I was not that keen on heights!
The rock climbing wasn't particularly enjoyable as there was rarely anything to hold on to and the severe drop below me was not comforting. The second zip-wire started with a slide, which we all had to go down and encounter the drop at the end, which felt as though my stomach had fallen out of my feet.
As well as being forced to zip-wire for a third time (into a dark cave, where we had to detach ourselves and climb up a rope ladder to a small opening at the top of the cave), we also had to swing on a rope from one side of the gorge to the other. This "Tarzan Swing" was actually the best bit. And to my surprise I managed to land gracefully on the other side – many others didn't!
A long metal ladder suspended above the gorge was one of the last things we were to encounter, however, it took me a very long time to walk across this "sturdy" ladder, all the same. Finally abseiling off a creaky metal ladder, ironically, seemed easy and a relief, as this would mean my feet would touch solid ground once more! Overall, the experience was exciting, but I don't think I would do it again!
Alpine gorge: price per person £55.
Summer skiing on the glacier

I am not particularly talented and far from graceful when skiing, but was very much looking forward to giving it another go. The slopes were packed with keen skiers.
There was a mix up with our guide, so we took to the slopes ourselves. After readjusting to being back on skis we made our way slowly down the slopes, during which I embarrassed myself completely by falling flat on my face!
The weather which had started out sunny deteriorated, but most of us persevered. Although it was enjoyable, I do feel that we would have had a better time if our guide had been there to take us round – and therefore the less keen skiers would have had someone to rely on.
Due to the bad weather conditions we were taken off the slopes early, which was irritating, but at least we were able to get some skiing in.
Summer skiing: At 3600m Saas Fee glacier offers 20km of varied pistes as well as a half pipe and boardercross area for snowboarders. Equipment and clothing available to hire locally. £32 per adult, £19 per child (price is for one day lift pass).
Photos © Colin Nicholson 2008
Oliva was on the family activity holiday as a guest of Crystal Lakes tel: 0871 230 8180 and www.crystallakes.co.uk