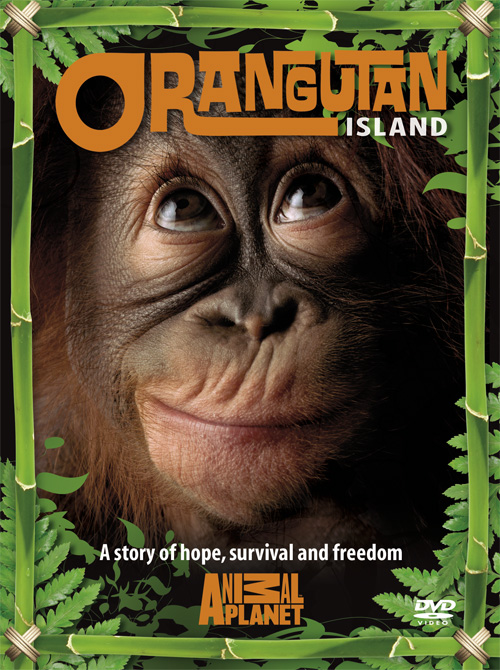 Orangutan Island was a thoroughly watchable DVD for our family so much so we all cried out at the end of the third episode. We are left wondering what happens to all the orangutans.

Episode One was an introduction to the Forest School 103 orangutans and the rescue centre. We learnt of the valuable work carried out by Lone Droscher-Nielsen and staff who rescue baby orangutans and become surrogate parents and teach the skills needed to be a wild animal again. Then we followed the move to an island for the older orangutans to become a group living free as they should be.

The first orangutan stars were Daisy a scruffy six year-old, Cha-Cha a social butterfly who loved the limelight and Saturnus a member of the "Bandit Boys" aptly named for their mischief in the nursery as babies with attitude.

The episode grabs your attention and holds it first by showing the plight of the orangutans of Borneo and the devastation of their homelands. We all were moved by the dedication of the rescue centre workers and most taken with the characters of the babies themselves. Their first night alone had us crossing our fingers for the new bunch.

Episode Two was very different - the threat of an intruder to the island and the menacing music and narration was both exciting and scary to watch. New orangutans were introduced: Jasmine the love interest for Saturnus whose attempts to woo her were so funny and the new loner Oy Oy with his aloofness and intelligence. The finale had us gripped as the little band triumphed over danger.

Episode Three was again unmissable, the danger of the wet season flooding the island, turning it into a deep river and then to be told that orangutans are unable to swim all set to make for a nerve-wracking episode. For new orangutan Mogar and Oy Oy then to be missing all added to the tenseness for us. The intruder returning as the rescue team are searching for the missing pair is quite chilling!

We thoroughly enjoyed the glimpse into the island and it was so well narrated. The children loved it at times watching with tears at the sad moments and then howling with laughter at the havoc caused when the Bandit Boys were on the rampage. My daughter was so impressed she wants to find out more about the plight of Borneo orangutans.
The soap style episodes and being introduced to the stars and the daily dramas is such a good way to watch nature programmes.
A thumbs up from our family !
Orangutan Island is available from Amazon. To order click the link below:
Orangutan Island [2008]