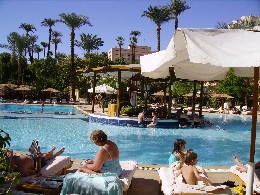 We stayed in the New Winter Palace hotel built alongside the Old Winter Palace and sharing the same gardens and pool areas. This is an excellent hotel for families – rooms are a good size and include a fridge, TV and tea and coffee-making facilities.

Our balcony overlooked the Nile and the cruise ships moored there and to our right we could see the magnicient Luxor Temple. It was noisy in the evening – but fascinating to watch the activities in the street – but by 11pm all was quiet.

The hotel pools are a great attraction, with an Italian restaurant nearby and waiters hovering to bring your food and drink orders, so it's tempting to laze and swim all day but there's so much more on offer.

A felucca trip on the Nile is a wonderful way to spend a few hours and certainly the children in our party enjoyed the experience. However there was no breeze when we went so sometimes our captain's "apprentice" had to walk along the bank to pull us along. The banks are full of surprises from families at work, tethered camels and donkeys to piles of rubbish left by the cruise ships!

Our destination was a banana plantation, reached by a steep climb from the riverbank. A drink and as many bananas as you could eat were followed, as it was getting dark, by a short walk through the plantation.

A balloon flight over the historical sites of the West Bank is a must if you have a head for heights and like a 4am start. If you don't take a trip, look out over the Nile at about 6am and see a fantastic display of balloons which just seem to hover above.

The Sound & Light show at Karnak Temple was fabulous from the viewpoint of seeing the temple at night, each part lit up as the story progresses but the show – actors' voices relating the history - is very dated. My teenager was very bored and younger children just dozed off.

Eating
The New and Old Winter Palace hotels have a variety of restaurants from a typically Egyptian El Tabur, reached via a walk through the gardens, to the Italian, the all-inclusive buffet restaurant and the more up-market 1886.
Tips
Male diners must wear a tie in the 1866 restaurant.
Avoid young waiters who can be a little too persistent in offering to show women in the attractions of the city!
Luxor is the hassle capital of Egypt – females should cover up when visiting the city and walk purposefully. Being with a male companion was less hazardous.
We found our best souvenirs at the Fair Trade Outlet Luxor Outlet, on the outskirts of the souks, a few minutes walk from Luxor Temple.
We travelled with Discover Egypt tel 0844 880 0462